Home Page
› Beef Recipes
Easy beef recipes to the rescue!
Have you ever been at the grocery store and have seen a particular cut of beef on sale, but you just didn't know what to make with it.  Maybe you were afraid it would turn out too chewy, wanted to make something besides one of your own tried and true recipes, or just weren't sure of how  it should be cooked.
As someone who cooks a lot, even I need inspiration sometimes!
Below of some recipes using beef that my family really enjoys which are  organized by cooking method.  That way if you know that you want to grill something, or it's a good day to turn on the oven you can look under those categories for a recipe that appeals to you. 
You can also look on the right hand column of this page to get some ideas of what to make with a certain cut of meat.  So, for example, if you are looking for a new recipe using ground beef you can look at some ideas under that category.
There are a lot of terrific cooks that follow this site, and some of them have kindly submitted some of their family favorite recipes which are listed toward the bottom of the page.  If you have a recipe to add, I'll gladly consider it. 

Because I know meal times are hectic, you will often find suggestions with many of the recipes for how to prep the dish or make the dish ahead of time if that works better with your schedule.
Baked Recipes
BBQ Meat Loaf
BBQ Meatloaf with Bacon
Flank Steak Stuffed with Rice
Beer Braised Brisket
Pot Roast
Broiled Steak
Roasted Beef Tenderloin
Beefy Onion Strudel
Open Faced Rueben Sandwiches
Passover Brisket
Easy Pot Roast
Smothered Round Steak with BBQ Onions
Oven Baked Cheese Burger Sliders
Cheesy Beef Bundles
Homemade Meatballs
Meatball Subs
Stove Top Recipes
Beef Stir Fry
Sloppy Joes
Stuffed Peppers
Monster Meatballs
Speedy Chili
Meatball Stroganoff
Slow Cooker Recipes
Slow Cooker Italian Beef Sandwiches
Slow Cooker Braised Short Ribs
Slow Cooker Beef Stroganoff
Slow Cooker Beef Stew
Slow Cooker BBQ Beef Sandwiches
Slow Cooker Ginger Beef with Broccoli
Slow Cooker Corned Beef Brisket
Slow Cooker Beef Cubes with Mushrooms
Slow Cooker Steak Fajitas
Slow Cooker Roast Beef with Gravy
Slow Cooker French Dip Sandwiches

Recipes For the Grill
Grilled London Broil
Grilled Double Cheddar Burgers
BBQ Onion Burgers
Asian Sirloin Steak
Quick and Tender London Broil
Grilled Chuck Steak with Red Wine Marinade
Marinated Flank Steak
Korean Beef Ribs
Citrus Skirt Steak
Steakhouse Burger Recipe
Recipes Submitted by Viewers
Please consider sharing your favorite recipe by clicking here!  Many of my best recipes have come from friends.  If you have a great recipe using beef that you would like to share, please click on the above link.  One benefit of sharing a recipe is that it is preserved if it is every lost and it's so much easier to print off a copy for friends who want your recipe after they taste it!

Thanks to viewers who have submitted these recipes:

Bacon Ranch Burgers
Peppers and Rice
Chili Con Carne
Tater Tot Casserole
New Goulash Recipe
Spanish Rice
Stove Top Pot Roast

---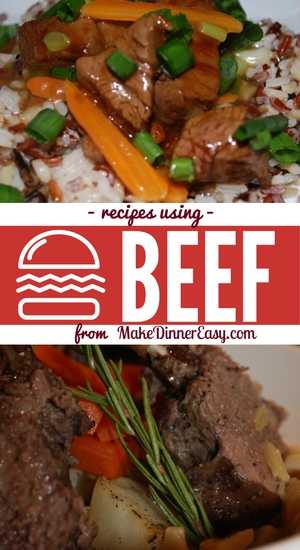 Want To Look Around Some More?

Return to the top of Beef Recipes or
Return to Weekly Menus Page for More Ideas for Dinner Tonight
---
Click on any of the images below to see what I've pinned to Pinterest recently!.  If you like to see the recipes and cooking tips that I discover and pin, I'd love to have you follow me on Pinterest!

Visit Crystal@makedinnereasy's profile on Pinterest.
Thanks for stopping by! 
If you enjoy cooking or are looking for new recipes to try,
these are ways to see more yummy ideas: 
I also share all kinds of cooking tips and recipes on
Facebook . Twitter . Pinterest . and Instagram .
I'd love to have you follow along!

Each page on this site has a comment box, so if you want to share how a recipe turned out or something you added to make it even better, feel free to comment below!