Home Page

>
Beef Recipes
> Homemade Meatball Recipe
Homemade Meatballs
Whenever I see ground beef or specifically ground round on sale, I usually plan to make a big batch of these homemade meatballs. I experimented for years and finally found that adding both parmesean cheese as well as beef broth really made these meatballs extra delicious. I love to keep several bags of these in the freezer for quick weeknight dinners. Some of the recipes they are great to use in include Meatball Stroganoff and Meatball Subs.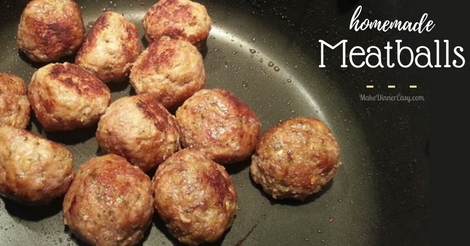 Homemade Meatball Recipe
1 cup, beef broth
3 pounds ground round, or a combo of lean ground beef and ground chuck
2 cloves of garlic, minced
2 beaten eggs
1/2 cup grated Parmesan cheese (freshly grated preferred)
2 cups Italian style bread crumbs
1/2 teaspoon salt
1/2 teaspoon freshly ground black pepper
---
Preheat the oven to 350 degrees. Prepare two large, rimmed cookie sheets by lining them each with foil. Pour 1-2 tablespoons of olive oil on each cookie sheet and use your finger tips to evenly spread the oil over the foil.
Place all of the ingredients in a large mixing bowl. Using your hands (or wear disposable rubber gloves if you prefer!) mix until combined. Form 2" meatballs by placing a small amount of the mixture in your hands and gently roll them back and forth to form a ball. If you aren't wearing rubber gloves, you can wet your hands slightly before doing this so that the mixture doesn't stick to your hands.

Place the meatballs on the foil-lined cookie sheets and bake about 20 minutes, or until the internal temprature has reached 160'F.
Yields approximately forty 2" meatballs.
---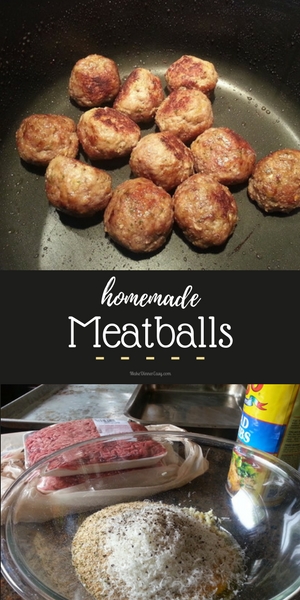 Click on any of the images below to see what I've pinned to Pinterest recently!.  If you like to see the recipes and cooking tips that I discover and pin, I'd love to have you follow me on Pinterest!

Visit Crystal@makedinnereasy's profile on Pinterest.
Thanks for stopping by! 
If you enjoy cooking or are looking for new recipes to try,
these are ways to see more yummy ideas: 
I also share all kinds of cooking tips and recipes on
Facebook . Twitter . Pinterest . and Instagram .
I'd love to have you follow along!

Each page on this site has a comment box, so if you want to share how a recipe turned out or something you added to make it even better, feel free to comment below!