Home Page
› Easy Dessert Recipes
Who doesn't love easy-to-make dessert recipes!
One of my fondest memories as a child was "backwards dinner night". This was an invention of my Uncle Bob and Aunt Eleanor who would let me eat a backwards dinner when I spent the night at their house. We would start with dessert, and end with a salad. The main course would be eaten in between. As a kid I thought this was great and on occasion have let my kids do the same. Whether you eat your sweets first or last, here are some simple recipes that are favorites of my family.
If you are looking for Christmas Cookie Recipes. I am starting to post some of my favorites and favorites from readers of this site. There is also a simple box on that page if you would like to share one of your family favorites!
Cookie and bar Recipes
Brownie Recipes
cakes, cupcakes, and cheesecake Recipes
cobblers, crisps, and pie Recipes
quick bread and coffee cake Recipes
other simple dessert Recipes
Recipes Submitted by Viewers
Please consider sharing your favorite recipe by clicking here!

Thanks to viewers who have submitted these recipes: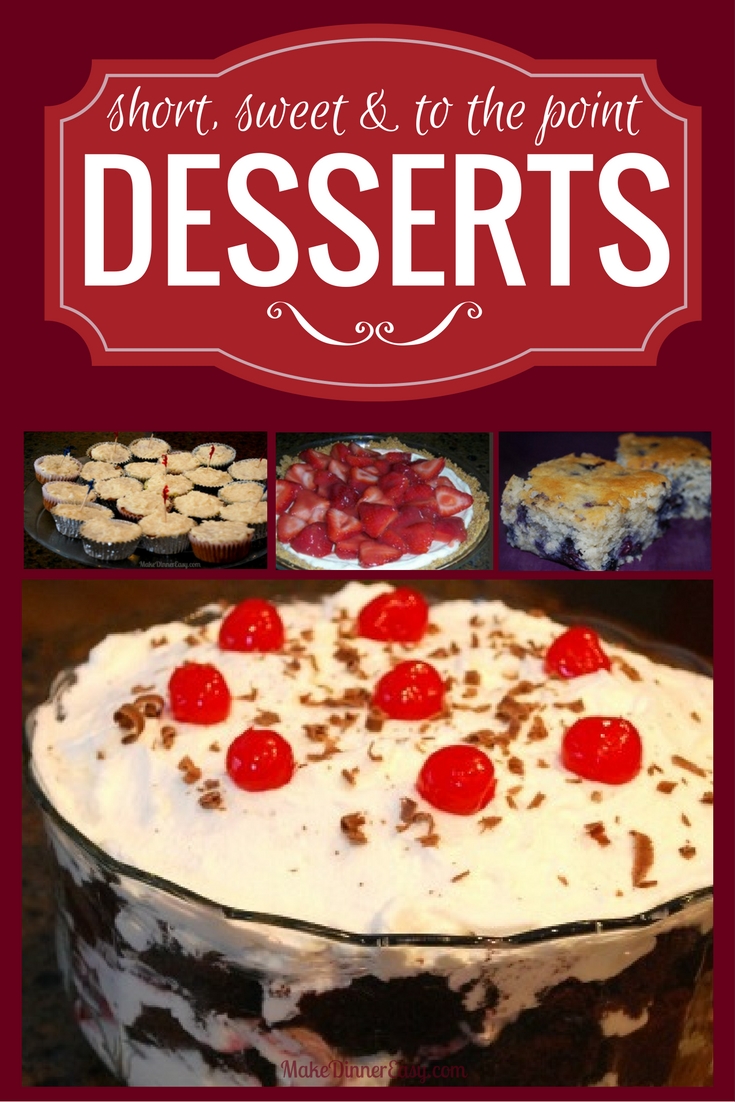 Click on any of the images below to see what I've pinned to Pinterest recently!.  If you like to see the recipes and cooking tips that I discover and pin, I'd love to have you follow me on Pinterest!

Visit Crystal@makedinnereasy's profile on Pinterest.
Thanks for stopping by! 
If you enjoy cooking or are looking for new recipes to try,
these are ways to see more yummy ideas: 
I also share all kinds of cooking tips and recipes on
Facebook . Twitter . Pinterest . and Instagram .
I'd love to have you follow along!

Each page on this site has a comment box, so if you want to share how a recipe turned out or something you added to make it even better, feel free to comment below!