Home Page

>
Dessert Recipes
> Pumpkin Bread Recipe
Pumpkin Bread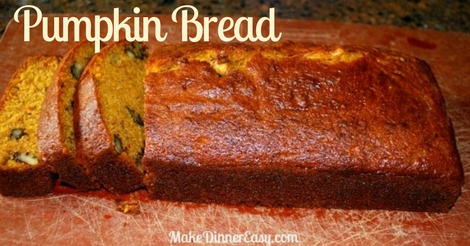 This pumpkin bread recipe can be served either as a dessert, an afternoon snack, or even for breakfast. It calls for common ingredients, is a snap to whip up, and even stores well in the freezer. If you like this quick bread recipe, you may also be interested recipes for Banana Nut Bread and Banana Apple Bread which are also standby favorite recipes in my house.
Wet ingredients:
2/3 cup unsalted butter, softened
2 cups, granulated sugar
4 eggs, slightly beaten
1 (15 ounce) can pureed pumpkin (2 cups)
1 (5 ounce) mini can, evaporated milk (or 1/3 cup milk)

Dry Ingredients:
3 1/3 cups flour
2 teaspoons baking soda
1/2 teaspoon baking powder
1/2 teaspoon salt
2 teaspoons ground cinnamon

Optional
1 cup chopped walnuts

Preheat the oven to 350'F and grease two 9" x 5" x 3" loaf pans.

In a large bowl or standing mixer, cream together the softened butter and the sugar. Add the egg, pumpkin, and the milk, mixing well.

In a separate bowl, combine all of the dry ingredients. Add the flour mixture to the pumpkin mixture and mix just to the point that the flour mixture is blended in (don't over-mix). Stir in the walnuts if desired.

Pour the batter evenly into the two greased loaf pans. Bake at 350'F for 45-50 minutes, or until a toothpick inserted into the middle of the loaf comes out clean.

Remove from the oven and allow to cool for about 20 minutes. Then run a knife along the edges of the pan and carefully invert the bread to remove from the pan. Wait until completely cool to slice.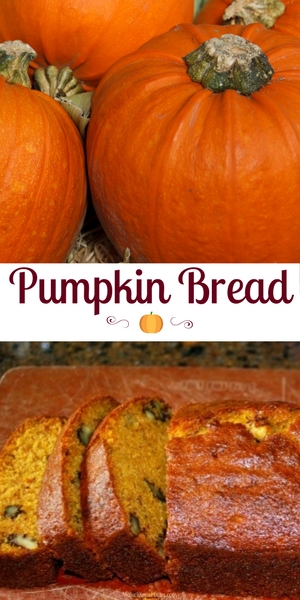 Click on any of the images below to see what I've pinned to Pinterest recently!.  If you like to see the recipes and cooking tips that I discover and pin, I'd love to have you follow me on Pinterest!

Visit Crystal@makedinnereasy's profile on Pinterest.
Thanks for stopping by! 
If you enjoy cooking or are looking for new recipes to try,
these are ways to see more yummy ideas: 
I also share all kinds of cooking tips and recipes on
Facebook . Twitter . Pinterest . and Instagram .
I'd love to have you follow along!

Each page on this site has a comment box, so if you want to share how a recipe turned out or something you added to make it even better, feel free to comment below!