Home Page
> Cooking 101
Cooking 101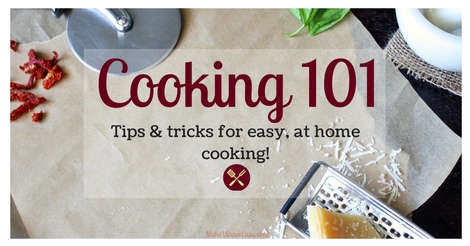 Cooking 101 is a new segment of this site geared toward exploring how to learn to cook. I will cover common cooking questions and resources for the home cook who wants to cook more or have better results.
I am not a formally trained cook, but I love to cook and love to eat. Over the years I have gathered a number of tips and tricks that help me to cook and bake with great results. 


My mom was my first teacher and I have many magazines, television shows, cookbooks, cooking videos , and mistakes in the kitchen that have helped me become a better cook. I hope my experiences outlined at Cooking 101, can help others figure out how to learn to be a terrific cook as well.
How To Cook - Frequently Asked Questions
How to Transform a Grocery Store Pre-Cooked
Rotisserie Chicken into a Dozen Other Recipes

Cooking For a Travel Sports Team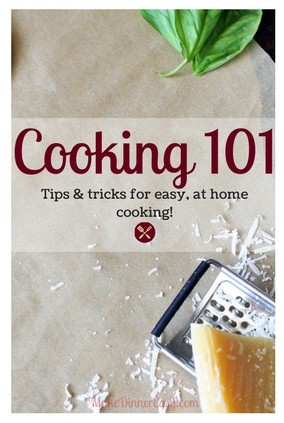 Click on any of the images below to see what I've pinned to Pinterest recently!.  If you like to see the recipes and cooking tips that I discover and pin, I'd love to have you follow me on Pinterest!

Visit Crystal@makedinnereasy's profile on Pinterest.
Thanks for stopping by! 
If you enjoy cooking or are looking for new recipes to try,
these are ways to see more yummy ideas: 
I also share all kinds of cooking tips and recipes on
Facebook . Twitter . Pinterest . and Instagram .
I'd love to have you follow along!

Each page on this site has a comment box, so if you want to share how a recipe turned out or something you added to make it even better, feel free to comment below!