Home Page

>
Turkey Recipes
> How To Cook A Turkey
How To Cook A Turkey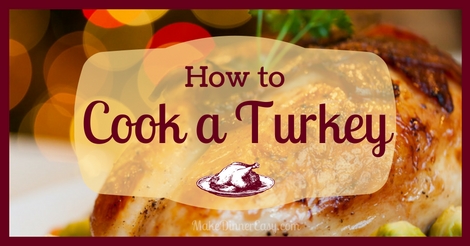 Wondering how to cook a turkey, one that everyone will rave over? Cooking a turkey for a special meal, such as Thanksgiving, can cause even the most experienced cook to have sweaty palms.
You can reduce your stress-level by becoming familiar with how to buy, defrost, and roast a turkey well before you need to cook one. Another way to make Thanksgiving easier is to have great recipes and a plan to complete as many tasks in advance. I can provide you with the recipes I use for Thanksgiving, a detailed planning guide, as well as the info on this page in the e-book featured to the right.
Type of Bird to Buy
Before learning how to cook a turkey, you need to decide whether to buy a fresh or frozen turkey. Your decision may be based on economics as frozen birds are usually less expensive, it may be based on health concerns as fresh birds often have less additives, or may be based on time and space constraints as frozen birds can take 3-4 days to properly thaw in the refrigerator. Personally, I place an order for a fresh turkey with my butcher 1-2 weeks before Thanksgiving and pick it up the day before. Occasionally throughout the year I will buy a non-basted frozen turkey. Turkey leftovers are great, no matter what time of year it is!
How Much to Buy
You can plan on anywhere from ½-1 pound to person. If you really want a lot of leftovers, and have hearty eaters then plan on a generous 1 ½ pounds per person. Personally, I love leftover turkey and often cube up the leftovers and freeze them to make Leftover Turkey Recipes at a later date.
How to Defrost
If you bought a frozen bird, plan that it will take about one day for every 4-5 pounds to defrost in the refrigerator. So, a 15 pound hen will take 3-4 days to defrost. When defrosting, keep the turkey in the original packaging, and I recommend placing it inside of a clean plastic garbage bag and then place it in a large pan in case there are any leaks.
If you have a frozen turkey and need to defrost it quickly, you can use a cold water defrosting method in which you place the bird, in it's original packaging, in a cold water bath and change out the water every 30 minutes. This will take about 30 minutes a pound to defrost. So, that 15 pound hen might take about 8 hours until it's fully defrosted. If you use this method, your bird needs to be cooked immediately after defrosting.
Have the Right Equipment
There are a few things that you will need that you might not normally use; it's a good idea to make sure you have everything in advance. At a minimum I would recommend having a large roasting pan optimally with a V shaped rack, string or cooking twine, a baster, a meat thermometer, and a good carving knife. Many people like to use an electric knife, but a good slicing knife will also suffice.
In addition you might like to have disposable rubber gloves, a large plastic bag if you want to brine the turkey, and large and extra large zip style bags to store leftovers and the turkey carcass (great to save for a Turkey Soup Recipe !) in the freezer.
Decide if you want to Brine, Rub or Baste
There are several ways to add moisture and flavor to a turkey.
The simplest method is to make a Seasoned Butter Rub which consists of butter and seasonings and rub this on the inside and outside of the bird before roasting
You can also make a Basting Sauce and baste the turkey along with some of the pan juices occasionally during the roasting process.
If you are buying an un-brined or un-basted turkey (that is an important distinction for this step!) and have room in your fridge, I prefer using a an overnight brine bath in addition to the rub and the basting sauce. Brining a Turkey imparts flavor and moisture. Brining helps to tenderize the meat before cooking and if you thoroughly rinse the bird you will be pleasantly surprised that it does not taste salty! Regardless of which method you use, prepare the rub and the basting sauce before you prepare the bird.
Preparing the Bird
The most important step is to remove the giblets inside the cavity of the turkey. These often come in a small disposable pouch. Many people like to save the giblets and simmer them in broth as a base for gravy. When handling the raw bird be very careful not to let the raw meat juices contaminate other surfaces. I prefer to use disposable rubber gloves and still wash my hand thoroughly afterward.
There is some debate on whether you should rinse the turkey first before roasting. If you do, then clear the sink of all other dishes, use a low stream of cold water and sanitize the sink and surrounding counters afterward with bleach or another sanitizing agent. Whether you rinse or you don't rinse, you can blot the inside and outside of the bird with paper towels. Another debate is whether to cook stuffing inside of the bird or cook it separately. I am a fan of cooking it separately to assure that the turkey and the stuffing are both properly cooked.
The bird then can be placed breast side up on an oiled rack in a roasting pan. You might notice that the legs wings are sticking out, which means they will cook faster than the rest of the bird if you don't either tuck them in or tie them down with kitchen string.
Roast and Relax
Place the bird, uncovered, in an oven that has been preheated to 325°F. An unstuffed turkey will take approximately 15 minutes per pound to roast. So, that 15 pound bird might take about 3.75 hours to cook. While the turkey is roasting you can baste it occasionally with the basting butter. Once the outside of the turkey is a nice golden brown color, then lightly tent it with foil to prevent it from getting over brown. Use a meat thermometer, placed in the deepest part of the thigh to assure that the bird is fully cooked, the thermometer should reach 165°F. Once done, remove from the oven and let the bird rest, tented with foil for about 20 minutes before carving. You can also view my recipe for Roasting a Turkeywhich summarizes these directions.
This segment of How to Cook a Turkey is part of my new Cooking 101series.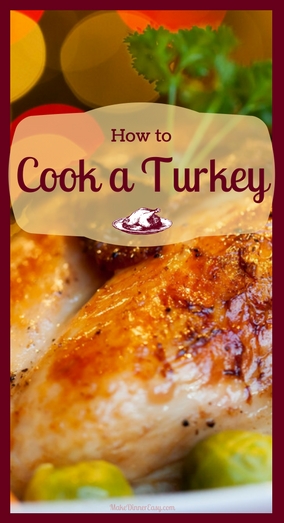 Click on any of the images below to see what I've pinned to Pinterest recently!.  If you like to see the recipes and cooking tips that I discover and pin, I'd love to have you follow me on Pinterest!

Visit Crystal@makedinnereasy's profile on Pinterest.
Thanks for stopping by! 
If you enjoy cooking or are looking for new recipes to try,
these are ways to see more yummy ideas: 
I also share all kinds of cooking tips and recipes on
Facebook . Twitter . Pinterest . and Instagram .
I'd love to have you follow along!

Each page on this site has a comment box, so if you want to share how a recipe turned out or something you added to make it even better, feel free to comment below!