Home Page
› Egg and Cheese Recipes
Egg and Cheese Recipes are a quick, easy, and budget friendly option for dinner. Whether you are trying to incorporate more meatless meals into your dinner plans, want to try something different like breakfast for dinner, or just need a fast meal with ingredients you have in the house, these recipes may help round out your weekly menu planning.
Considering the price of eggs, it's easy to see how you can make a really economical meal using this great protein source instead of meat or fish.

While most people think of egg dishes for breakfast, they can make a great option for dinner.  I often don't have time to make an elaborate breakfast like french toast on school days, but there is no reason why you can't break the rules and have... breakfast for dinner. 
Egg and cheese Recipes
What Type of Eggs To Buy?

One question I'm often asked is what kind of eggs to buy.  The choices range from organic, to cage free, to conventional.  Then you can also pick from sizes ranging from jumbo to large to medium.

There is a fair amount of controversy on this, so I'll share my personal preferences (which you may not agree with!) and I welcome you to share below yours as well. 
I'm all about a good deal as long as I'm buying healthy food.  To that end, my preference is to buy eggs that are higher in omega 3s and that are cage free, if the price is right, I'll buy organic.  Feel free to share your preference in the comment section below!

Want To Look Around Some More?

 Return to the top of this Egg and Cheese Page or
Check out the Dinner Ideas I've planned out for this week!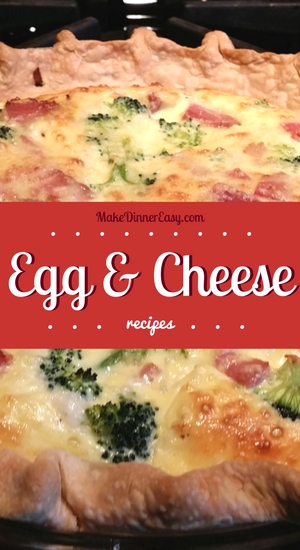 Click on any of the images below to see what I've pinned to Pinterest recently!.  If you like to see the recipes and cooking tips that I discover and pin, I'd love to have you follow me on Pinterest!

Visit Crystal@makedinnereasy's profile on Pinterest.
Thanks for stopping by! 
If you enjoy cooking or are looking for new recipes to try,
these are ways to see more yummy ideas: 
I also share all kinds of cooking tips and recipes on
Facebook . Twitter . Pinterest . and Instagram .
I'd love to have you follow along!

Each page on this site has a comment box, so if you want to share how a recipe turned out or something you added to make it even better, feel free to comment below!