Home Page

>
Egg and Cheese Recipes
> French Toast Casserole
Apple French Toast Casserole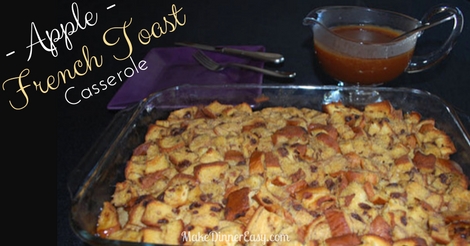 Go ahead and break the rules! While this French Toast Casserole can certainly be made for breakfast or brunch. It's also fun to have breakfast for dinner, especially if you don't normally have time to make something like this in the morning. I've used raisin bread, apples and raisins and used a bit less sugar than many recipes call for so you can serve it anytime of the day. If you want to get really festive, I've also included a recipe for a cider syrup that can be served with this dish.  If you enjoy the syrup recipe as much as my kids do, remember it's a great thing to make to serve with regular pancakes or waffles and is especially good to whip up if you run out of maple syrup!

Apple French Toast Casserole Recipe

1/3 cup brown sugar
1 teaspoon + 2 teaspoons cinnamon
1/3 cup butter, melted
3 baking apples, peeled and sliced with core removed
1/2 cup dark raisins
1 (1 pound) loaf raisin bread, diced up into 1.5" squares (approximately!)
6 eggs, beaten
1.5 cups, milk
1 teaspoon vanilla extract (use the real stuff, not imitation vanilla)

In a large bowl, combine brown sugar and 1 teaspoon of the cinnamon. Stir in the melted butter. Add the sliced apples and raisins and stir until they are coated well. Pour this apple mixture into a greased 9" x 12" x 2" glass baking dish. Spread the diced raisin bread on top of the apples.
Using the same bowl, combine the eggs, milk, vanilla and the remaining 2 teaspoons of cinnamon. Pour this over the apples. Make sure all the bread pieces are fully soaked with the egg mixture. You may need to press some of the bread down into the egg mixture to assure this. Cover the pan with foil and refrigerate for 8-10 hours.
One hour before you want to serve this, bake the foil covered casserole in an oven that has been pre-heated to 375'F for 40 minutes. Remove the foil and bake an additional 5 minutes. Remove from the oven and let stand 5 minutes before serving.
Serves 8-10, and leftovers can be reheated.
Apple Cider Syrup
Note:  We like a lot of syrup so I usually triple this recipe.  You can refrigerate leftovers too!

2/3 cup of cider 
2 Tbs of sugar
2 teaspoons cornstarch
1/2 teaspoon cinnamon

Before turning on the burner, add all of the ingredients to a small sauce pan. Whisk well until combined then bring to a boil and reduce to a simmer for about 2 minutes. This recipe can be doubled if you family likes a lot of syrup.
Want to Make This on Another Day, Pin it for Later!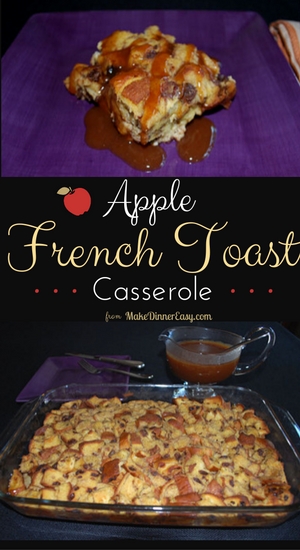 Click on any of the images below to see what I've pinned to Pinterest recently!.  If you like to see the recipes and cooking tips that I discover and pin, I'd love to have you follow me on Pinterest!

Visit Crystal@makedinnereasy's profile on Pinterest.
Thanks for stopping by! 
If you enjoy cooking or are looking for new recipes to try,
these are ways to see more yummy ideas: 
I also share all kinds of cooking tips and recipes on
Facebook . Twitter . Pinterest . and Instagram .
I'd love to have you follow along!

Each page on this site has a comment box, so if you want to share how a recipe turned out or something you added to make it even better, feel free to comment below!