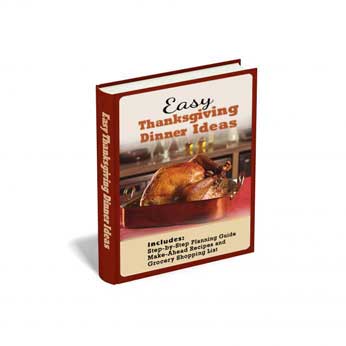 If you want to take the stress out of Thanksgiving, this e-book can help!
What You Will Receive
This 33 page e-book is a comprehensive guide to making a delicious Thanksgiving dinner with the least amount of stress.
Following your purchase you will receive an e-mail with a link you can open and print this e-book right away. No waiting to go to the bookstore, no waiting for the mail to come. 

Ideas, Recipes, and Cooking Tips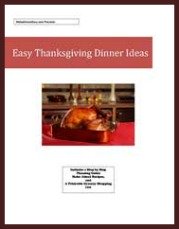 You will receive a link to download or print a copy of a 33 page, 8.5" x 11" e-book that contains a variety of pictures so you have an idea of what a finished recipe will look like 

A Book That Can Be Read or Easily Referenced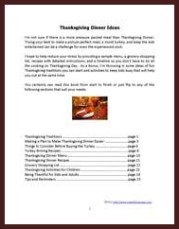 On page 3 of this book you will find a Table of Contents to make referencing the sections of this book easier. 

A Detailed Planning Guide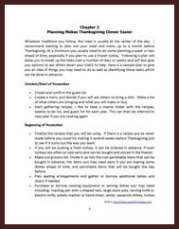 On pages 6-8 you will find a breakdown of activities you can complete in advance so that you don't leave all the planning to the last minute. I even provide a day by day breakdown of what you can do the week of Thanksgiving to get everything done with as little stress as possible. 

Easy to Understand 
Thanksgiving Dinner Recipes
Included in this e-book are all the recipes you need to make a delicious Thanksgiving Dinner. Many of the recipe pages, such as this page for a make ahead/no-lump gravy, include detailed directions and photos to guide you to what the finished dish can look like. I don't care to cook with a lot of processed ingredients so you won't find recipes that rely on those in this e-book. This is real, made from scratch, cooking with wholesome ingredients. 

A One-Page
Printable Grocery Shopping List
Just like I do for my weekly menus on Make Dinner Easy , I have included in this e-book a one-page grocery shopping list that is organized by aisle and cross-referenced by recipe. That way if you want to add your own side dish or dessert recipe to the menu it is easy to modify the grocery shopping list that I have provided. I've also included an extra copy of this grocery list for you to use the next time you make a traditional turkey dinner.