Home Page

>
Chicken Recipes
> Chicken and Stuffing
Chicken and Stuffing Casserole
I've seen a number of recipes for chicken and stuffing casserole that call for canned cream soup. This is my version of those dishes with a homemade cream sauce. Omitting the canned soup allows you to control the sodium content and enhance the flavor. This is a warm your bones kind of dish that will make your house smell like Thanksgiving without all the fuss.
3 Tablespoons butter
1 medium onion, diced
2 stalks celery, diced
1/2 cup flour
1 teaspoon salt
1/4 teaspoon poultry seasoning
1 (12 ounce) can evaporated milk
2 cups chicken broth
4 cups, cooked chicken (rotisserie or cook your own)
14 ounces, packaged stuffing mix (I like the cubed kind)
2 1/2 - 3 cups cups hot water or hot chicken broth

Melt the butter in a stock pot. Add the onion and celery, and sauté until tender. Add flour, salt and poultry seasoning, and stir until flour is completely combined. Add evaporated milk, and chicken broth. Continue to cook, stirring over medium heat for about 5 minutes until mixture starts to thicken. Add chicken.

Pour mixture into a 9"x13"x2-1/2" baking dish. Meanwhile, follow directions on the stuffing mix, which usually calls for combining the stuffing mix with hot water or hot broth and letting it rest for a few minutes. Pour the stuffing over the chicken mixture.

Bake covered at 350°F for 20 minutes, then uncover and bake for an additional 10 minutes or until chicken is bubbly and stuffing is crispy.

Serves 8. 
This recipe can be cut in half or if you can make twice as much as you need and freeze half. If you plan on freezing part of this, I would recommend that you freeze it without the stuffing and then add the stuffing after it is thawed and before baking. You can also prepare this dish ahead of time and refrigerate it prior to baking. Again, wait until just before baking to prepare the stuffing. Cooking time will also need to be increased by at least 15 minutes.
Ratings and Reviews
My husband doesn't like anything vegetable, which makes cooking dinner aggravating. I made the Chicken and Stuffing Casserole last night and it was a huge hit. I diced the onion and celery really really small so my husband wouldn't notice them to easily. It was amazingly easy and delicious and left overs were even better. This is a must try.
Darlene R.
ON, Canada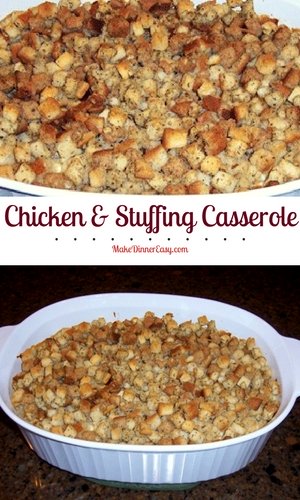 Click on any of the images below to see what I've pinned to Pinterest recently!.  If you like to see the recipes and cooking tips that I discover and pin, I'd love to have you follow me on Pinterest!

Visit Crystal@makedinnereasy's profile on Pinterest.
Thanks for stopping by! 
If you enjoy cooking or are looking for new recipes to try,
these are ways to see more yummy ideas: 
I also share all kinds of cooking tips and recipes on
Facebook . Twitter . Pinterest . and Instagram .
I'd love to have you follow along!

Each page on this site has a comment box, so if you want to share how a recipe turned out or something you added to make it even better, feel free to comment below!