Save Money on Groceries: Strategies from a Mom of Four

You are not alone if you are trying to save money on groceries.  This can be a real challenge if you are pressed for time, are taking kids with you to the store, or can't seem to master using coupons.

As a mom of four busy kids who are hearty eaters, my grocery expenses would be ridiculous if I wasn't careful.  I've outlined some of the strategies that I use below and would love to hear any strategies you have in the comment section at the bottom of this page!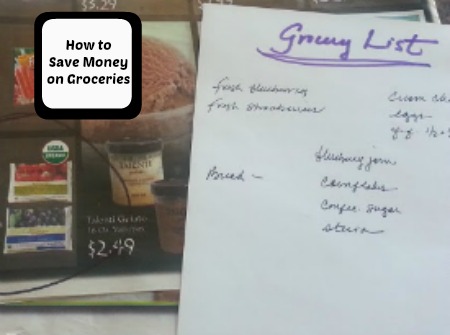 Some of my Cost Saving Tips:
Make A Plan:
Whether you use my weekly dinner plans or come up with your own. Having a plan will help you avoid ordering take out or going out to eat which are both more expensive options. I like to make a plan based on my schedule for the week. I plug in slow cooker meals on nights that I will be home late and meals that take longer to cook on days that I'm home in the afternoon. If you make a plan for the week you will also save money at the grocery store
Make A Grocery List:
After you make your weekly plan either use my grocery list or come up with your own. Having a list will help you avoid buying items that you already have in the house. When I'm at the store I usually tell my kids "I can only buy what's on the list!"
Save and Check out the Grocery Store Ads:
I'm not a fan of going to three different stores to take advantage of the best deals. However, I will look to see which of the two or three stores in my area has the best sales on meat and produce and do my main shopping at that store that week. Try to pay attention to what types of foods you spend the most items on and go to the store that has the best sale on those items.
Coupons
Overall, you will save the most money by buying the things you need when they are on sale. If you can also apply a coupon to a sale item, you can really save. I keep my coupons organized in plastic sleeves in a 3-ring binder. I have found that the plastic sleeves used to store baseball cards are great for organizing coupons! There are several types of coupons; manufacturer's coupons and store coupons. The store coupons are usually featured in the store ads. In many stores, you can use both coupons towards one item. If that item is on sale, you really score. Visit the following site to find various coupons coupons.answers.com
Limit the Number of Trips you Make to the Store
The more times you go to the store each week, the greater the possibility you'll buy something you don't really need. Sometimes it helps to try and use up what is in the pantry or freezer before buying more things
Keep the Ingredients for a Few Quick Meals in the House
Frozen shrimp and pasta have the makings for Angle Hair Pasta with Shrimp. Canned clams and linguine are the basics of Linguine with White Clam Sauce. Even Stovetop Macaroni and Cheese includes ingredients you may have in the house. Having some basic on hand can help you put a quick meal on the table without having to order in.
With a little planning, you can serve wonderful dinners for a fraction of what you would spend eating out.
I want you to know that I do accept advertising compensation from companies that I respect enough to include as a resource to you on this site.
Click on any of the images below to see what I've pinned to Pinterest recently!.  If you like to see the recipes and cooking tips that I discover and pin, I'd love to have you follow me on Pinterest!

Visit Crystal@makedinnereasy's profile on Pinterest.
Thanks for stopping by! 
If you enjoy cooking or are looking for new recipes to try,
these are ways to see more yummy ideas: 
I also share all kinds of cooking tips and recipes on
Facebook . Twitter . Pinterest . and Instagram .
I'd love to have you follow along!

Each page on this site has a comment box, so if you want to share how a recipe turned out or something you added to make it even better, feel free to comment below!