Home Page
› Pasta Recipes
Pasta Recipes
It's no surprise that pasta recipes are right at the top of the list of kid friendly dinner recipes. Many of these recipes can be made ahead and are also great for parties.
I have four kids that are all involved in sports.  Let me tell you, I make a lot of noodle dishes.  In addition to the recipes below, I usually have a zip style bag of cooked noodles in my fridge ready to go.  I have found that you can cook noodles in advance.  Just rinse it after cooking, toss with a little light olive oil and store in the fridge in either a zip style pag or tightly closed container.  You can heat it up by placing it in a colandar and running hot water over it.  While I don't normally do this for pasta recipes it can save time in a pinch when prepping a recipe in stages, or is good just heated up with a little Parmesan cheese!

Linguine with White Clam Sauce
Pasta Primavera
Pasta Pizza Bake
Lasagna Roll Ups
Spaghetti and Meatballs
No Boil Lasagna
Layered Lasagna Casserole
Baked Macaroni with Triple Cheese
Angel Hair Pasta with Shrimp
Creamy Baked Ziti with Meat Sauce
Artichoke Chicken Linguine
Fettuccini Alfredo with Chicken and Broccoli
Stove Top Mac and Cheese
Acapulco Pasta Bake
Spaghetti Pie
Fettuccini with Roasted Asparagus and Goat Cheese
Spaghetti with Basil and Double Meat Sauce
Rotini Taco Bake
Broccoli Chicken Pasta
Baked Ziti with Sausage and Fresh Basil
Easy Cheesy Spaghetti Casserole
Make-Ahead Meaty Mostacholi
No Time To Cook Spaghetti and Meatballs
Turkey Lasagna
Mexican Mostacholi

For many pasta recipes, the most time consuming part is waiting for the water to boil and cooking the noodles. If you are in a hurry, place a lid on the pot of water to help it come to a boil faster.
Pasta recipes, especially those with red sauce, can be very messy to eat! Taylor from Household Management 101 has some helpful laundry stain removal tips in case the sauce goes on your shirt instead of on your plate!


Recipes Submitted by Viewers
Please consider sharing your favorite recipe by clicking here!

Thanks to viewers who have submitted these recipes:

Skillet Lasagna
Slow Cooker Lasagna
Microwave Fettuccine
Spaghetti and Meatballs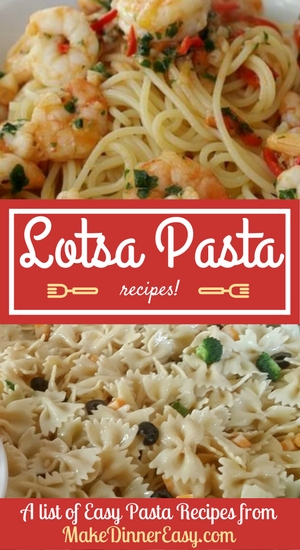 Are you cooking a recipe that calls for cooked bacon? 
Try baking it following the guide below.  It's easy!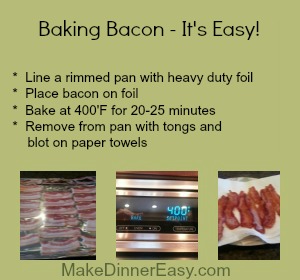 Click on any of the images below to see what I've pinned to Pinterest recently!.  If you like to see the recipes and cooking tips that I discover and pin, I'd love to have you follow me on Pinterest!

Visit Crystal@makedinnereasy's profile on Pinterest.
Thanks for stopping by! 
If you enjoy cooking or are looking for new recipes to try,
these are ways to see more yummy ideas: 
Each week (usually on Mondays) I send out an  e- Newsletter to over 11,000 people with a link to the free dinner menus and printable grocery list that I've created for the week.  You can Sign Up for the Newsletter (it's free) to be added to my next mailing.
I also share all kinds of cooking tips and recipes on
Facebook . Twitter . Pinterest , and Instagram .  
I'd love to have you follow along!

Each page on this site has a comment box, so if you want to share how a recipe turned out or something you added to make it even better, feel free to comment below!  

Crystal