Home Page

>
Pasta Recipes
> Pasta Primavera
Recipe Background
and Tips to Make it Easier
I've had this recipe for Pasta Primavera for over 20 years. It's pretty, it's tasty, but it can take awhile to chop all the vegetables. You can make this easier by just using a few of your favorite veggies, having others help you chop (which works great if you have kids or dinner guests often like to help), or you can chop the veggies in advance. You can even cook the pasta in advance, rinse with cold water, toss with about 1 Tablespoon of olive oil, and store in a zip style bag or covered bowl. This recipe is very forgiving, so feel free to put your own spin on it as your tastes and time allows.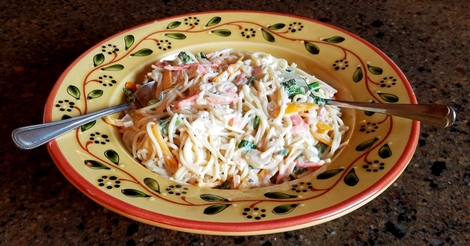 Pasta Primavera
1 Tablespoon olive oil
1 medium onion, chopped
1 clove garlic, minced
10 baby carrots cut lengthwise in small pieces
1 red pepper, chopped
1 yellow pepper, chopped
2 cups of broccoli florets, steamed (in a pinch you can use 1 bag of frozen Birdseye steamfresh)
8 ounces dry linguine
1 cup whipping cream ( you can use evaporated milk or fat free half and half instead if desired)
½ cup chicken broth 
3 green onions, chopped
2 teaspoons dried or 2 Tablespoons fresh basil
½ teaspoon each salt and freshly ground black pepper
½ teaspoon chicken bouillon or to taste (I prefer Better than bouillon concentrated stock base)
1 cup freshly grated parmesan cheese

1. Sauté the first 6 ingredients until veggies are crisp tender (this can be prepped ahead, refrigerated and reheated)
2. Steam or microwave broccoli until crisp tender
3. Cook linguine as directed
4. Combine whipping cream, chicken broth, green onions, basil, salt, black pepper and bouillon in a saucepan and cook over low heat for 5 minutes or until hot or well blended (this can be prepped ahead, refrigerated and reheated)
5. In a large bowl combine the sautéed ingredients from step #1, the broccoli, the drained linguine, the whipping cream mixture. Add parmesan cheese and mix.

Serves 6-8

Options: You can add any vegetable you prefer such as sautéed asparagus or mushrooms. Cooked Shrimp and Chicken are also delicious to add to this for a heartier dinner.
Click on any of the images below to see what I've pinned to Pinterest recently!.  If you like to see the recipes and cooking tips that I discover and pin, I'd love to have you follow me on Pinterest!

Visit Crystal@makedinnereasy's profile on Pinterest.
Thanks for stopping by! 
If you enjoy cooking or are looking for new recipes to try,
these are ways to see more yummy ideas: 
I also share all kinds of cooking tips and recipes on
Facebook . Twitter . Pinterest . and Instagram .
I'd love to have you follow along!

Each page on this site has a comment box, so if you want to share how a recipe turned out or something you added to make it even better, feel free to comment below!