Many people are trying to include more fish and seafood recipes into their weekly diet. Because seafood is often expensive, it can be helpful to know if the recipe will work and if it will be a dish your family will enjoy. The following recipes have been tested and approved by my family. I hope your family enjoys them as well!
Greek Shrimp
Salmon Patties
Crabby Patties
Crispy Baked Tilapia
Shrimp Italiano
Dijon Glazed Tilapia
Stuffed Sole
Creamy Clam Chowder
Parmesan and Panko Crusted Salmon
Fisherman Stew
Garlic Shrimp
Harvest Tuna Melts
Crispy Bay Scallops
Glazed Salmon
Fish Nuggets
Jambalaya
Simple Sauteed Scallops
Parmesan Tilapia
Sautéed Tilapia with Citrus Butter
Cilantro Citrus Shrimp Salad


Recipes Submitted by Viewers
Please consider sharing your favorite recipe by clicking here!

Thanks to viewers who have submitted these recipes:

Shrimp Scampi
Sauteed Shrimp with Artichokes and Cilantro
Fish Tacos with Fresh Mango Salsa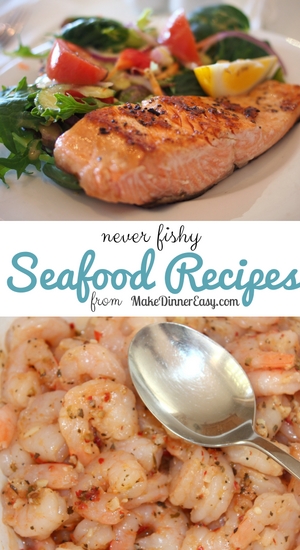 Click on any of the images below to see what I've pinned to Pinterest recently!.  If you like to see the recipes and cooking tips that I discover and pin, I'd love to have you follow me on Pinterest!

Visit Crystal@makedinnereasy's profile on Pinterest.
Thanks for stopping by! 
If you enjoy cooking or are looking for new recipes to try,
these are ways to see more yummy ideas: 
I also share all kinds of cooking tips and recipes on
Facebook . Twitter . Pinterest . and Instagram .
I'd love to have you follow along!

Each page on this site has a comment box, so if you want to share how a recipe turned out or something you added to make it even better, feel free to comment below!