Home Page

>
Seafood Recipes
> Simple Sauteed Scallops
Recipe Background
This simple sauteed scallops recipe is easy and fast. If you are wondering how to cook scallops, this is a beginner recipe with only three ingredients that makes a terrific weeknight or great special occasion dinner. This scallop recipe also includes specific instructions for cleaning as well as cooking to help ensure a successful outcome. You can use either small bay scallops or larger sea scallops, based on availability and your budget. Although fresh scallops are preferred, frozen scallops can be used if thawed, rinsed, and patted dry before cooking.
Simple Sauteed Scallops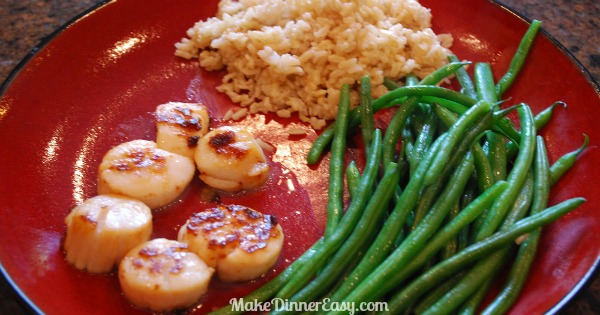 Preparation Time: 5 minutes 
Cooking Time: less than 10 minutes
1 - 1.5 pounds scallops
2 teaspoons butter, divided
2 teaspoons olive oil, divided

If you are using frozen scallops, thaw them by either refrigerating them for 8-10 hours or by placing the pacakge in a bowl of cold water. Keep changing the water until the scallops are fully thawed.
Place the thawed scallops in a colander and rinse well. Using several sheets of paper towel, blot excess moisture off of the scallops. They need to be fairly dry in order to brown while cooking.
I recommend cooking the scallops in small batches. If you place all of the scallops in the pan at once, they will steam and not get browned.
In a large non-stick skillet, place 1 teaspoon of butter and 1 teaspoon of olive oil and heat over medium-low heat until the butter is melted but not browned. Place half of the scallops in a single layer into the skillet. Sauté the scallops about 2 minutes per side over medium heat or until the scallops are nicely browned on both sides. If you are using larger bay scallops, tongs work well to turn the scallops over. For bay scallops, a spatula can be used. Transfer the cooked scallops to a serving platter and cook the 2nd batch of scallops using the same method.
Serves 4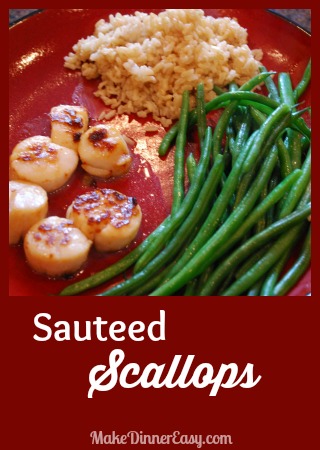 Click on any of the images below to see what I've pinned to Pinterest recently!.  If you like to see the recipes and cooking tips that I discover and pin, I'd love to have you follow me on Pinterest!

Visit Crystal@makedinnereasy's profile on Pinterest.
Thanks for stopping by! 
If you enjoy cooking or are looking for new recipes to try,
these are ways to see more yummy ideas: 
I also share all kinds of cooking tips and recipes on
Facebook . Twitter . Pinterest . and Instagram .
I'd love to have you follow along!

Each page on this site has a comment box, so if you want to share how a recipe turned out or something you added to make it even better, feel free to comment below!