Home Page
> Slow Cooker Recipes
You may call it a slow cooker or a crock pot but whatever you call it, having a collection of tasty recipes for the slow cooker can be a real time saver.
When I first started using a slow cooker I was very disappointed. I had a hard time finding good recipes, and many recipes called for cream of something soup which I don't like to cook with. The biggest problem I had was that the recipes I tried turned out mushy and my kids just wouldn't eat them.
I've tried a lot of recipes, done a lot of experimenting, and have put together a collection of slow cooker recipes that my kids will actually eat. I have found some recipes actually taste better in the slow cooker.
I am always searching for new and delicious slow cooker recipes without a lot of processed ingredients, if you have any you would like to share, please click on "contact us" button at the left.
Chicken Recipes
Slow Cooker Chicken and Dumplings
Slow Cooker Chicken Paprikash
Slow Cooker Italian Chicken
Slow Cooker Coconut Chicken Curry
Slow Cooker Lemon Chicken
Slow Cooker BBQ Chicken
Slow Cooker Mexicali Chicken
Slow Cooker Chicken and Sausage Chicken Cassoulet
Slow Cooker Herbed Chicken Drumsticks

Beef Recipes
Slow Cooker Italian Beef Sandwiches
Slow Cooker Braised Short Ribs
Slow Cooker Beef Stroganoff
Slow Cooker Beef Stew
Slow Cooker BBQ Beef Sandwiches
Slow Cooker Ginger Beef with Broccoli
Slow Cooker Corned Beef Brisket
Slow Cooker Steak Fajitas
Slow Cooker French Dip Sandwiches
Slow Cooker Roast Beef with Gravy

Pork Recipes
Slow Cooker Ribs
Slow Cooker Kielbasa and Sauerkraut
Slow Cooker Pulled Pork Sandwiches
Slow Cooker Barbeque Pork Sandwiches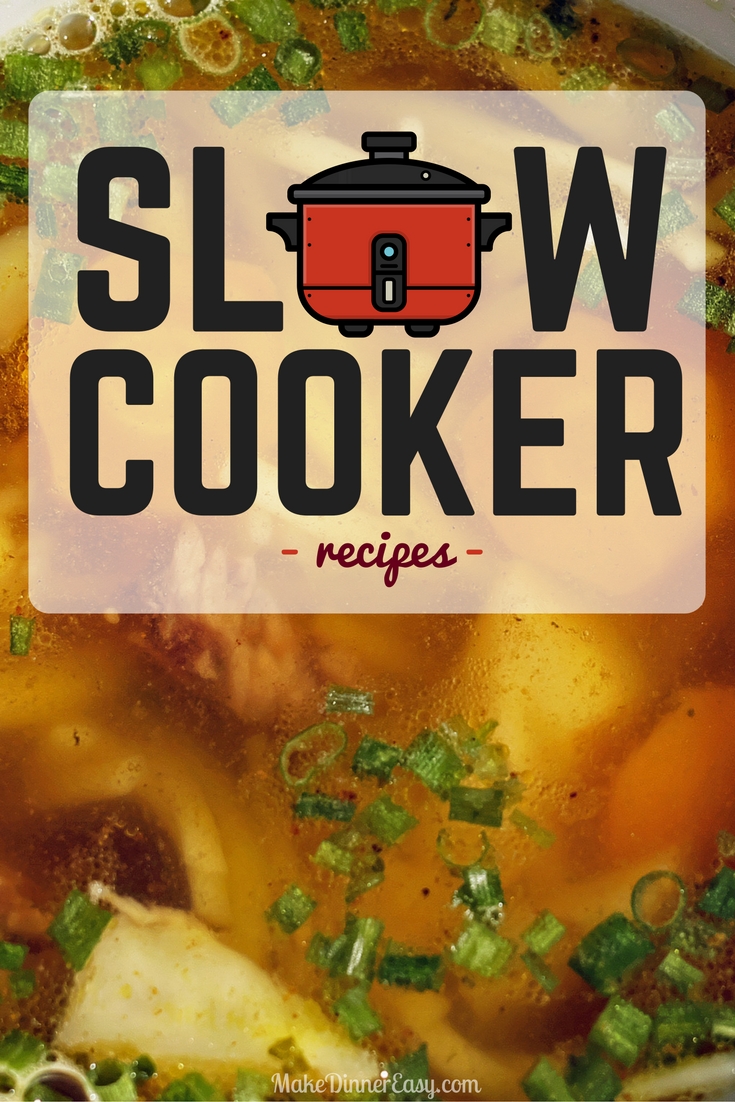 Click on any of the images below to see what I've pinned to Pinterest recently!.  If you like to see the recipes and cooking tips that I discover and pin, I'd love to have you follow me on Pinterest!

Visit Crystal@makedinnereasy's profile on Pinterest.
Thanks for stopping by! 
If you enjoy cooking or are looking for new recipes to try,
these are ways to see more yummy ideas: 
I also share all kinds of cooking tips and recipes on
Facebook . Twitter . Pinterest . and Instagram .
I'd love to have you follow along!

Each page on this site has a comment box, so if you want to share how a recipe turned out or something you added to make it even better, feel free to comment below!