Home Page

>
Beef Recipes
> Roast Beef with Gravy
Slow Cooker Roast Beef with Gravy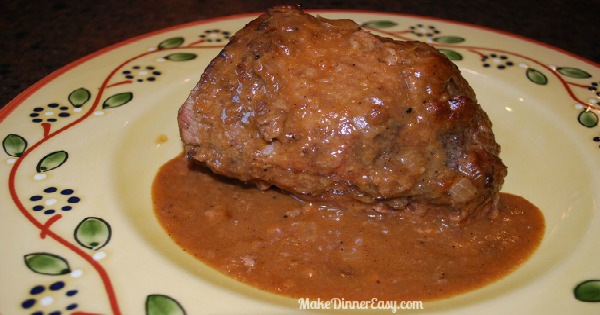 Making this Slow Cooker Roast Beef can make an easy weeknight meal seem like Sunday dinner.  I came up with the recipe because my kids like just about anything with gravy but I don't always have time to babysit and roast in the oven and then fuss with making a homemade gravy when it's done.  This recipe is a little radical because the "gravy" you make and pour over the roast is a little thick but as it melds with the beef juices of the roast it turns into a nice gravy that is ready to serve along with the beef when it's done cooking.  I also recommend taking the extra step of browning the roast before placing it in the slow cooker.  This not only improves the color of your dish but gives a lot of extra flavor.  It's like an all in one beef and gravy recipe - bring on the mashed potatoes and you've got a great dinner!

Slow Cooker Roast Beef with Gravy Recipe

Preparation time: 15 minutes. Cooking Time: 8-9 hours
1 (2.5 - 3 pound) beef roast (i.e. eye of round)
1/2 cup flour
1 teaspoon salt
2 teaspoons paprika
1/4 teaspoon garlic powder
1/4 teaspoon black pepper
3 Tablespoons olive oil
1 onion, diced
2 cups beef broth

Combine the flour, salt, paprika, garlic powder, and black pepper in a large zip style bag. Add the roast to the bag and shake so that the roast is covered with the flour mixture.
Heat the olive oil over medium-low heat in a large non-stick skillet. Place the flour covered roast in the skillet, leaving the remaining flour in the bag (don't discard the bag yet!)
Brown the roast 3-4 minutes per side over med-low heat.
Place browned roast in a slow cooker. Add the onions to the skillet and saute for several minutes. Add the remaining flour in the bag into the skillet with the onions. Stir well until the flour is no longer white and is mixed well with the oil left in the pan. Add the broth and cook over medium heat, stirring constantly, 1-2 minutes until thickened. Pour this gravy over the meat.
Cook on low heat in a slow cooker, 8-9 hours
Serves 5-6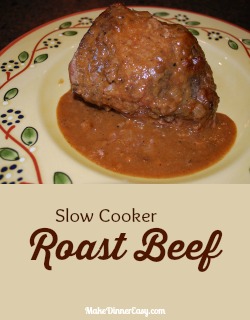 Click on any of the images below to see what I've pinned to Pinterest recently!.  If you like to see the recipes and cooking tips that I discover and pin, I'd love to have you follow me on Pinterest!

Visit Crystal@makedinnereasy's profile on Pinterest.
Thanks for stopping by! 
If you enjoy cooking or are looking for new recipes to try,
these are ways to see more yummy ideas: 
I also share all kinds of cooking tips and recipes on
Facebook . Twitter . Pinterest . and Instagram .
I'd love to have you follow along!

Each page on this site has a comment box, so if you want to share how a recipe turned out or something you added to make it even better, feel free to comment below!