Slow Cooker Ribs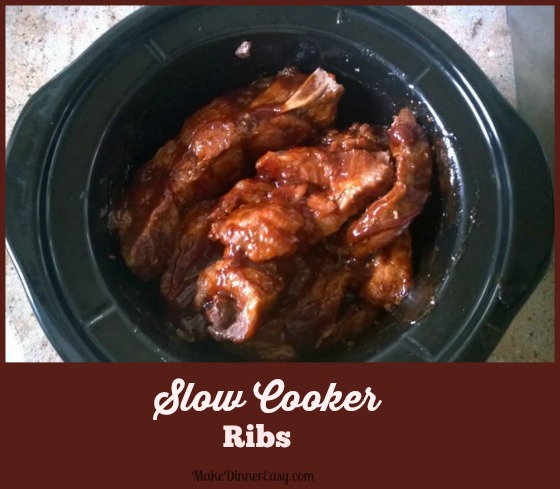 Ingredients

1-2 whole slabs of baby back ribs (I can fit 2 slabs in my large oval Slow Cooker after they have been cut up)
1 large onion, sliced
1 - 18 ounce bottle of your favorite bottled BBQ sauce
Instructions

Place onion in the bottom of a Crockpot. Cut each slab into 5 portions of about 3-4 ribs each. Place ribs on top of the onions. Cover with lid and cook on low for 5-7 hours. At that time, remove the ribs into a bowl and discard the onions and any liquid. Rinse the Crockpot if necessary.
Return the ribs to the crock pot and pour BBQ sauce over ribs. Use a pastry or BBQ brush to brush the sauce over the top and bottom of each rib. Continue to cook on low for 2-3 hours or on high for 1-2 hours. These times are approximate and can be modified to fit your schedule.
After the ribs are cooked in the sauce they are ready to be served. If you prefer, the ribs can be browned by placing on the grill or under the broiler for 2-3 minutes per side while basting with sauce.
Reheating tip: Refrigerated leftovers or ribs made in advance can be reheated in the oven at 350 for 25 minutes. If you want to serve ribs for a party or a large group of people, this reheating method works great. My kids think they taste even better when they are reheated with additional sauce on top.
Click on any of the images below to see what I've pinned to Pinterest recently!.  If you like to see the recipes and cooking tips that I discover and pin, I'd love to have you follow me on Pinterest!

Visit Crystal@makedinnereasy's profile on Pinterest.
Thanks for stopping by! 
If you enjoy cooking or are looking for new recipes to try,
these are ways to see more yummy ideas: 
I also share all kinds of cooking tips and recipes on
Facebook . Twitter . Pinterest . and Instagram .
I'd love to have you follow along!

Each page on this site has a comment box, so if you want to share how a recipe turned out or something you added to make it even better, feel free to comment below!