Slow Cooker Chicken Paprikash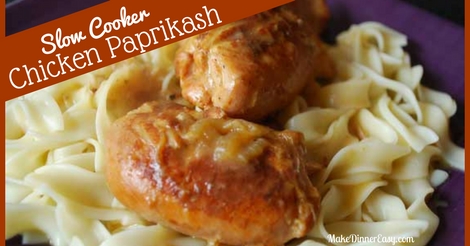 (Prep Time: 30 minutes. Cooking Time 6-8 hours)

8-10 Boneless, Skinless Chicken Thighs
2 teaspoons Hungarian Paprika (Get the good stuff for this recipe! It comes in a large red can)
½ teaspoon salt
¼ teaspoon freshly ground black pepper
1 large onion, coarsely chopped
1/3 cup, flour
2 cups chicken broth
1/2 teaspoon chicken bouillon (I prefer concentrated stock paste)
½ cup sour cream (you can use light sour cream) (Optional)
1 teaspoon flour (Optional)

1. Place the thighs in a large, unheated, non-stick skillet. Sprinkle 1 teaspoon of paprika over the thighs. Turn thighs over and sprinkle the other 1 teaspoon of paprika over the other side of the thighs. Sprinkle the salt and pepper over the top of the chicken. I usually don't measure the paprika, I just sprinkle enough on so that the meat is liberally sprinkled.
2. Place the skillet on the burner on medium/low heat. Watch the thighs carefully as there is no extra oil or water in the pan at this point. This is done deliberately so that the thighs brown nicely. Cook the thighs on one side for about 2 minutes without moving or turning them. You can carefully peek under them occasionally to make sure they don't burn. It's okay to let them stick a little as this improves the flavor. After one side is nicely browned. Use tongs and turn thighs over. Cook on this side 1-2 minutes as well until browned. If you need to, you can add a small amount of water to prevent over browning.
3. Transfer the thighs to a slow cooker. Keep the pan drippings intact and add the onion to the skillet. If there aren't a lot of pan drippings, you can add 1 Tablespoon of olive oil or canola oil to the pan. Return the skillet to medium heat and sauté the onions for several minutes. Turn the heat off and add the flour, mixing well.  Add chicken broth and turn the heat back on the medium low, stirring well until mixture starts to thicken. Add the bouillon and stir until combined..
4. Pour the thickened broth over the thighs in the slow cooker. Cover and cook on low for 6-8 hours. It will seem quite thick but will thin out as the sauce combines with the meat juices.

5.  OPTIONAL: 30 minutes before serving. Mix the sour cream with 1 teaspoon flour in a separate bowl. Add a few tablespoons of the liquid from the slow cooker to warm up the sour cream mixture (this will prevent it from curdling). Add the sour cream to the slow cooker and stir carefully. The chicken is very tender and can break apart if you stir too vigorously.  Continue to cook on low for 30 minutes. The traditional receipe calls for sour cream to be added to the sauce, but it's just as tasty without.

Serve over wide noodles.
Serves: 6-8. Leftovers freeze well

Recipe Background

My Grandparents emigrated from Hungary and my mother taught me how to make Chicken Paprikash.  I've adapted her method to the slow cooker.  I was surprised to discover that I prefer the taste of this method and it's much easier! This is a saucy kind of dish that works well served over broad egg/no yolk noodles or rice.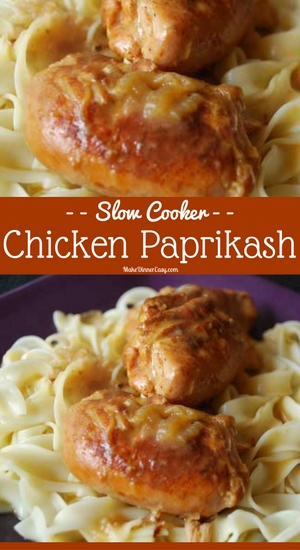 Click on any of the images below to see what I've pinned to Pinterest recently!.  If you like to see the recipes and cooking tips that I discover and pin, I'd love to have you follow me on Pinterest!

Visit Crystal@makedinnereasy's profile on Pinterest.
Thanks for stopping by! 
If you enjoy cooking or are looking for new recipes to try,
these are ways to see more yummy ideas: 
Each week (usually on Mondays) I send out an  e- Newsletter to over 11,000 people with a link to the free dinner menus and printable grocery list that I've created for the week.  You can Sign Up for the Newsletter (it's free) to be added to my next mailing.
I also share all kinds of cooking tips and recipes on
Facebook . Twitter . Pinterest , and Instagram .  
I'd love to have you follow along!

Each page on this site has a comment box, so if you want to share how a recipe turned out or something you added to make it even better, feel free to comment below!  

Crystal