Home Page

>
Chicken Recipes
> Herbed Chicken Drumsticks
Recipe Background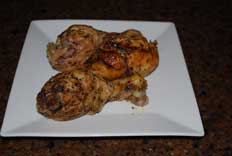 This herbed chicken drumsticks recipe is another one of my quick, easy chicken recipes. Whether you are looking for simple chicken recipes or new crock pot chicken recipes, this might suit your needs. I came up with this recipe when trying to find a new way to use a family pack of chicken legs that was on sale at the store. Not only did my family love the flavor, I loved the economy and ease of preparation that this dish offers.
Slow Cooker
Herbed Chicken Drumsticks
Preparation Time: 10-15 minutes. Cooking Time: 8 hours
20 whole garlic cloves, skin removed 
2 Tablespoons light olive oil
6-8 chicken legs or drumsticks
1 Tablespoon dried oregano or rosemary
1 teaspoon salt
1 teaspoon black pepper
1 teaspoon paprika
1/4 teaspoon red pepper flakes (optional)
1/3 cup chicken broth

Place the garlic cloves in the bottom of a slow cooker. Pour the olive oil into a gallon sized zip-style bag. Add the chicken legs, close the bag, and massage the olive oil into the chicken legs. In a separate cup, combine the dried herbs and spices. Pour this herb mixture over the chicken in the bag. Close the bag again and massage the chicken until the spices coat all of the chicken legs. Pour the chicken into a large skillet and brown the chicken over medium high heat for 3-4 minutes per side (this step will give the chicken flavor and color). Place the browned chicken into the slow cooker, pour the chicken broth over the top and place the lid on the slow cooker. Cook on low heat for 8 hours.
Serves 4-6.
Cook's notes: I have doubled this recipe and used the economy family pack of 12- 13 chicken legs in order to serve 6-10. Leftovers are also great for lunch or dinner. 

Click on any of the images below to see what I've pinned to Pinterest recently!.  If you like to see the recipes and cooking tips that I discover and pin, I'd love to have you follow me on Pinterest!

Visit Crystal@makedinnereasy's profile on Pinterest.
Thanks for stopping by! 
If you enjoy cooking or are looking for new recipes to try,
these are ways to see more yummy ideas: 
I also share all kinds of cooking tips and recipes on
Facebook . Twitter . Pinterest . and Instagram .
I'd love to have you follow along!

Each page on this site has a comment box, so if you want to share how a recipe turned out or something you added to make it even better, feel free to comment below!