Home Page

>
Beef Recipes
> French Dip Sandwiches
Recipe Background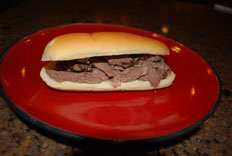 These French Dip Sandwiches only call for three ingredients and only take five minutes to make in the morning. How easy is that! This is a crock pot roast beef recipe that yields a very tender and flavorful sandwich This recipe is very similar to my recipe for Slow Cooker Italian Beef Sandwiches. Both are very easy beef recipes that work great for anyone who doesn't have much time to cook.
Slow Cooker French Dip Sandwiches
Preparation Time 5 minutes in the morning. Cooking Time 8 hours

2.5 pound round tip beef roast (approximate weight, any size roast will work)
32 ounce container low sodium beef broth
1 (1 ounce) envelope, onion soup mix

Pour beef broth and the dry onion soup mix into a medium size sauce pan and bring to a boil. Meanwhile, place beef roast in the bottom of a slow cooker. If there is a string or pop up timer around or in the beef, this should be removed. Once the broth mixture comes to a boil, pour the liquid over the beef in the slow cooker. Place the lid on and cook on low for at least 8 hours.

Serve meat on hoagie buns with some of the liquid spooned over the inside of the bun as well.
Serves 6-8
Click on any of the images below to see what I've pinned to Pinterest recently!.  If you like to see the recipes and cooking tips that I discover and pin, I'd love to have you follow me on Pinterest!

Visit Crystal@makedinnereasy's profile on Pinterest.
Thanks for stopping by! 
If you enjoy cooking or are looking for new recipes to try,
these are ways to see more yummy ideas: 
I also share all kinds of cooking tips and recipes on
Facebook . Twitter . Pinterest . and Instagram .
I'd love to have you follow along!

Each page on this site has a comment box, so if you want to share how a recipe turned out or something you added to make it even better, feel free to comment below!