Home Page

>
Beef Recipes
> BBQ Meat Loaf
Slow Cooker Corned Beef Dinner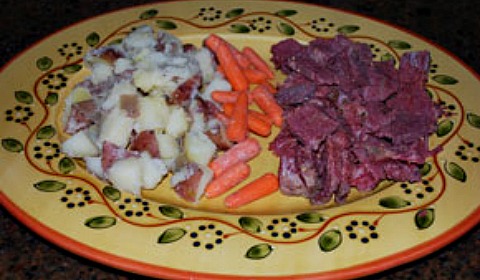 Cooking corned beef brisket can be challenging if you work or aren't home to tend this slow cooking meat. This recipe utilizes a slow cooker so you don't have to be home during the cooking process. Although the vegetables can be added while the corned beef is cooking, I prefer to cook them separately just before serving. If you like the cabbage, carrots and potatoes to have the same salty flavor as the corned beef, borrow some of the cooking water from the meat to cook your veggies in. When you purchase corned beef, occasionally a spice packet will be included. If that is the case, I've included directions for what to do with it. If there is no spice packet, don't worry, the spices have already been sprinkled on the meat.
Slow Cooker Corned Beef Recipe

(Prep Time: 10 minutes. Cooking Time: 10 hours)

2 onions quartered
1 corned beef brisket with seasoning packet (size is your preference)
Water
1 head of cabbage, cut into 6 wedges with core removed
2 cups, baby carrots
10 small red potatoes, scrubbed and cut in half

1. Place quartered onions in the bottom of a slow cooker.
2. Remove corned beef from packaging and reserve spice packet if one is included. If there is an excessive amount of fat on the meat, some (not all!) of this can be trimmed off.
3. Place meat on top of onions in the slow cooker. The meat can be cut into sections if it doesn't fit into your slow cooker. If a spice packet was included, sprinkle the contents of the spice packet on and around meat. Cover, or almost cover with water.
4. Place lid on slow cooker and cook on low for 10-12 hours or on high for 6-7 hours.
5. About 20-30 minutes before serving, use a ladle and remove about 2-3 cups of the liquid from the slow cooker and place this liquid in a stock pot. Add another 1-2 cups of water. Place cabbage in this water and bring to a slow boil. Cook for 10 minutes, add carrots and potatoes and cook for an additional 10 minutes or until all vegetables are fork tender.
6. Remove corned beef from slow cooker, discarding onions. Slice and serve with boiled cabbage, carrots and potatoes. 

Stove Top Method: Follow the directions listed above, however place the meat in a large stock pot. Bring to a boil, cover and simmer for 4-5 hours. You will need to check the water level and add water to keep the brisket covered in water. 40 minutes before serving, add cabbage, carrots and potatoes to the pot.
Click on any of the images below to see what I've pinned to Pinterest recently!.  If you like to see the recipes and cooking tips that I discover and pin, I'd love to have you follow me on Pinterest!

Visit Crystal@makedinnereasy's profile on Pinterest.
Thanks for stopping by! 
If you enjoy cooking or are looking for new recipes to try,
these are ways to see more yummy ideas: 
I also share all kinds of cooking tips and recipes on
Facebook . Twitter . Pinterest . and Instagram .
I'd love to have you follow along!

Each page on this site has a comment box, so if you want to share how a recipe turned out or something you added to make it even better, feel free to comment below!