Home Page

>

Beef Recipes

> Slow Cooker Beef Stroganoff
Slow Cooker Beef Stroganoff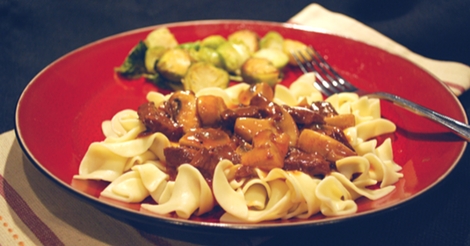 (prep time 20 minutes, cooking time 7-11 hours)
2 Tablespoons Olive Oil
1 large onion, diced
1 (8 ounce) package sliced fresh mushrooms
¼ cup tomato paste
¼ teaspoons each salt and freshly ground black pepper
2 cups beef broth 
1/3 cup soy sauce
¼ cup instant tapioca
1 teaspoon olive oil
1 (3 lb) beef chuck roast or steak, cut into 1 ½ inch pieces

½ cup sour cream
In a large skillet, heat 2 Tablespoons of olive oil on medium heat. Add onions and sauté for 1-2 minutes until tender. Add mushrooms and stir. Add tomato paste, salt, black pepper and stir until combined.
In a separate bowl, mix broth, soy sauce and tapioca. Add the broth mixture in the bowl to the onion and mushroom mixture in the skillet and stir to combine. Cook and stir until both mixtures are combined and thickened. Transfer this skillet mixture into a slow cooker.
Using the same skillet, heat the pan on medium high heat with 1 teaspoon of olive oil. When oil is hot, add beef. Brown beef on all sides. Beef will brown if you let it "stick" a little, rather than constantly stirring. If you double this recipe, it will help to brown only ½ of the meat at a time.
Transfer beef to slow cooker, scraping pan well. Cover and cook on low for 9-11 hours or on high for 5-7 hours. Meat is done when it is fork tender (usually the longer it cooks the better). Use a large spoon and remove any visible fat that is on top (the fat will be a clear color, rather than a beef color).
Place the sour cream into a small bowl and add 1 cup of liquid from the slow cooker, stirring well. Return the beefy /sour cream mixture into the slow cooker and stir well. Serve over egg noodles
Serves 4-6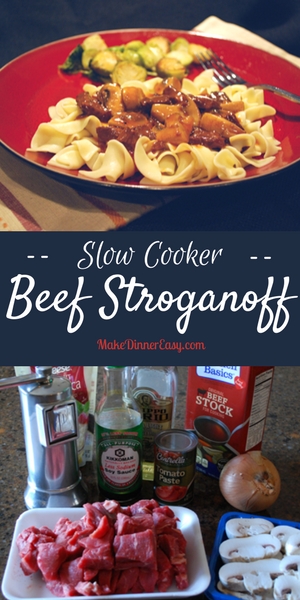 Click on any of the images below to see what I've pinned to Pinterest recently!.  If you like to see the recipes and cooking tips that I discover and pin, I'd love to have you follow me on Pinterest!

Visit Crystal@makedinnereasy's profile on Pinterest.
Thanks for stopping by! 
If you enjoy cooking or are looking for new recipes to try,
these are ways to see more yummy ideas: 
I also share all kinds of cooking tips and recipes on
Facebook . Twitter . Pinterest . and Instagram .
I'd love to have you follow along!

Each page on this site has a comment box, so if you want to share how a recipe turned out or something you added to make it even better, feel free to comment below!