Home Page

>
Pork Recipes
> Kielbasa and Sauerkraut
Recipe Background
This recipe for slow cooker kielbasa and sauerkraut may be one of the easiest recipes you will ever make. It only takes about 10 minutes of preparation time and you will have a piping hot dinner ready in about 5 hours. Considering that kielbasa is often on-sale, this is also an entrée that you can make for under $10. You can add more or less kielbasa to the slow cooker depending on your needs. If you do that, you don't necessarily need to double the amount of sauerkraut, unless you want to. If you think your kids would never eat sauerkraut, you might be surprised after serving this dish. Rinsing the sauerkraut and adding brown sugar and caraway seeds results in more of "sweetkraut" rather than a "sourkraut". Even if you don't eat a lot of the sauerkraut, it provides a nice bed to cook the kielbasa on in the slow cooker.
Slow Cooker Kielbasa and Sauerkraut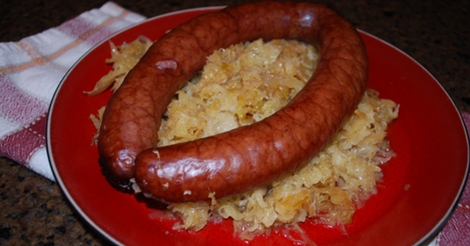 Prep: 10 minutes. Cooking Time: 4-6 hours
2# sauerkraut (I buy the refrigerated variety that comes in a bag)
½ cup brown sugar
½ teaspoon salt
½ teaspoon caraway seeds
2 links Kielbasa or Polish Sausage
½ cup apple juice

Pour the sauerkraut into a colander and rinse very well with water. Allow to drain, using a spoon to press out extra water. Place the rinsed and drained sauerkraut into a slow cooker. Add the brown sugar, salt, and caraway seeds to the sauerkraut, mixing well. Place the kielbasa on top. Pour the apple juice over the kielbasa. Don't stir. Cover and cook on low for 4-6 hours.
Serves 4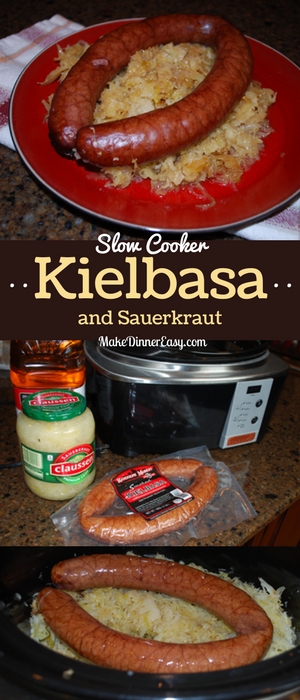 Click on any of the images below to see what I've pinned to Pinterest recently!.  If you like to see the recipes and cooking tips that I discover and pin, I'd love to have you follow me on Pinterest!

Visit Crystal@makedinnereasy's profile on Pinterest.
Thanks for stopping by! 
If you enjoy cooking or are looking for new recipes to try,
these are ways to see more yummy ideas: 
I also share all kinds of cooking tips and recipes on
Facebook . Twitter . Pinterest . and Instagram .
I'd love to have you follow along!

Each page on this site has a comment box, so if you want to share how a recipe turned out or something you added to make it even better, feel free to comment below!