Home Page

>
Seafood Recipes
> Creamy Clam Chowder
Creamy Clam Chowder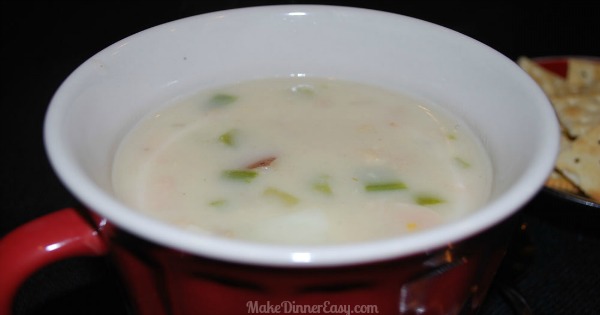 My kids have always loved clam chowder, especially before or after a swim meet,  I'll confess I used to crack open a can of one of our favorite brands until I came up with this recipe.  It's quick and easy and it's pretty forgiving if you don't have all of the ingredients in the house.  I've put together some substitutes I've used in the past beneath the recipe.  Enjoy!

Creamy Clam Chowder Recipe

(Prep Time: 10 minutes. Cooking Time: 40 minutes)

3 Tablespoon butter
1 onion, diced
4 green onions chopped, green portion reserved
4 stalks celery, finely chopped
12 small red potatoes, scrubbed and cut into ½" dice (I leave the peels on and use about 2 cups total))
2 garlic cloves, minced
1/3 cup flour
1 ½ cups chicken broth
1 ½ cup fat free half and half
4 (6.5 ounce) cans, undrained minced clams
1 teaspoon salt or to taste

1. Melt butter in a large stock pot. Add onions (reserve the green portion of the green onions), celery, red potatoes and garlic cloves. Saute 3-4 minutes until onions are tender.
2. Add flour and stir well.
3. Add broth, clams with the liquid from the can, and salt. Stir constantly while cooking over medium heat until mixture starts to thicken.
4. Reduce heat to low and simmer for 15-20 minutes or until the potatoes are tender.
5.  Slowly add the half and half until the soup is the desired thickness.  If you add the milk directly to the hot soup you have to be careful and stir constantly to prevent the half and half from curdling.  It's recommended to place some hot soup in a small bowl, add about 3/4 cup of the half and half and stir.  Then add this mixture to the soup.  Additional milk can be added in the same manner until the soup is as thick or thin as you would like.
5. Serve, topping each bowl with the reserved chopped green onion pieces.


Serves: 4-5
Substitutions
One of the nice things about this recipe is that it calls for ingredients that are easy to keep in the house.  I will tell you that this is a very flexible recipe.  For example:
If you don't have green onions, you can omit them.  They do add color and flavor but I've made this soup plenty of times with yellow onions only and it's fine
Although the recipe calls for 4 cans of clams, you can get away with two.  You may just have to add a bit more chicken broth to make up for the clam juice that you will be short on
I love cooking with fat free half and half but I have make this soup with milk from the fridge.  If you can avoid using skim milk that would help as 2% or higher have a bit more body.  If you do this you may find that you need less than 1.5 cups to get the desired thickness
I prefer using red potatoes in the recipe because I don't have to peel them, but you certainly can use peeled baking potatoes.
As noted below, if you have access to fresh clam, by all means use those!

Cooking with Canned Clams

Canned clams can be very handy to have in the house.  In addition to this soup, I often make Linguine with White Clam Sauce which is also a family favorite.  For those of you who have more access to fresh clams, by all means use them in this recipe.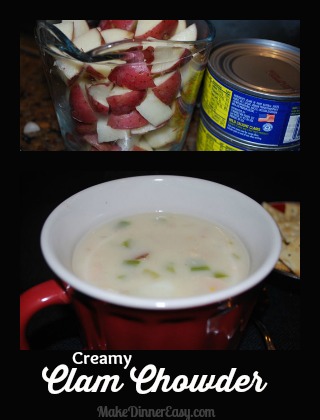 Click on any of the images below to see what I've pinned to Pinterest recently!.  If you like to see the recipes and cooking tips that I discover and pin, I'd love to have you follow me on Pinterest!

Visit Crystal@makedinnereasy's profile on Pinterest.
Thanks for stopping by! 
If you enjoy cooking or are looking for new recipes to try,
these are ways to see more yummy ideas: 
I also share all kinds of cooking tips and recipes on
Facebook . Twitter . Pinterest . and Instagram .
I'd love to have you follow along!

Each page on this site has a comment box, so if you want to share how a recipe turned out or something you added to make it even better, feel free to comment below!