Home Page

>
Seafood Recipes
> Crispy Bay Scallops
Recipe Background
This recipe for Crispy Bay Scallops is a great way to enjoy scallop taste on a budget. Bay scallops are usually less expensive and I often see frozen bay scallops on sale. When I do I buy one or two packages and keep them in the freezer for a quick meal. Most importantly, my family loves, loves, loves this recipe. There are two tricks to making this dish turn out great. First, use non-stick or quick release foil. Second, make sure that the scallops are well drained, squeezed of excessive moisture and blotted dry. If you start with wet drippy scallops, you'll have a wet, drippy meal.
Crispy Bay Scallops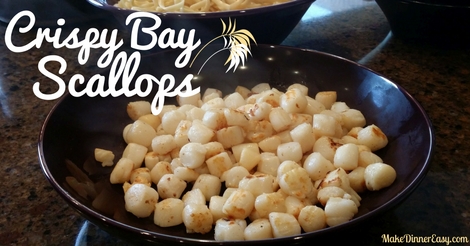 Preparation Time: 10 minutes Baking Time: 22 minutes
4 Tablespoons olive oil
3 garlic cloves, minced
20 Ritz crackers finely crushed
¼ cup grated Parmesan cheese
½ teaspoon garlic powder
½ teaspoon paprika
1 ½ pounds bay scallops, rinsed, drained, and blotted dry

Preheat the oven to 375°F. Mix together olive oil and minced garlic in a small glass or bowl. Prepare the baking pan by lining a rimmed baking sheet with non-stick or quick release aluminum foil. Place 2 Tablespoons of the garlic and olive oil mixture on the foil and spread it around with the back of the spoon or your fingers. Reserve the remaining 2 Tablespoons of garlic and olive oil.
Place crackers in a zip style bag and crush into a fine powder using a rolling pin or can. Add the Parmesan cheese, garlic powder, and paprika to the cracker crumbs, shake to combine and set aside.
Place the scallops in a colander in the sink and rinse well. Allow to drain and use your hands to gently squeeze out as much water as you can without distorting the shape of the scallops. Keep the scallops in the colander and use paper towels to blot off any moisture (this is important so that the scallops are crispy and not soggy!)
Pour the remaining 2 Tablespoons of garlic olive oil over the scallops in the colander. Toss to coat. Transfer the olive and garlic coated scallops to the bag with the cracker crumb mixture. Toss to coat and then transfer the coated scallops to the prepared baking sheet using a slotted spoon or your hands (discard any leftover crumbs)
Bake for 20 minutes at 375°F. Then, broil for an additional 2 minutes.
Serves 4-5.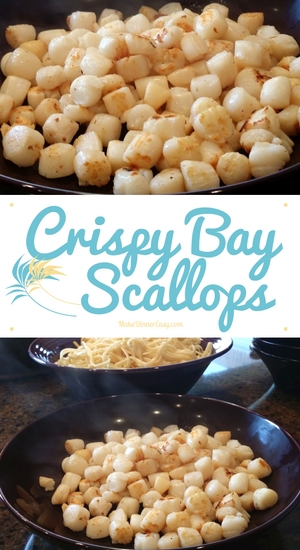 Click on any of the images below to see what I've pinned to Pinterest recently!.  If you like to see the recipes and cooking tips that I discover and pin, I'd love to have you follow me on Pinterest!

Visit Crystal@makedinnereasy's profile on Pinterest.
Thanks for stopping by! 
If you enjoy cooking or are looking for new recipes to try,
these are ways to see more yummy ideas: 
I also share all kinds of cooking tips and recipes on
Facebook . Twitter . Pinterest . and Instagram .
I'd love to have you follow along!

Each page on this site has a comment box, so if you want to share how a recipe turned out or something you added to make it even better, feel free to comment below!