Home Page

>
Seafood Recipes
> Garlic Shrimp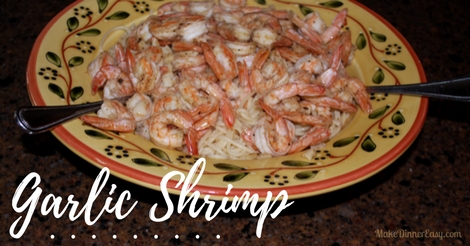 Recipe Background
This recipe for Garlic Shrimp is extremely quick and easy. It is also flexible. You can use any size or kind of shrimp that is on sale. The garlic flavor, however, will permeate the shrimp more if it is shelled before cooking. The key to success when making this recipe is to make sure the shrimp are defrosted, drained, and blotted dry. If you don't do this, the excess water from frozen or wet shrimp will water down the sauce. Keeping a bag of shrimp in the freezer, will allow you to whip up this quick dish anytime you need a quick, last minute meal. If you really like garlic, try adding some of the garlic just before serving for an extra kick.
Garlic Shrimp
(Prep Time: 10 minutes. Cooking Time: 10 minutes)
2 # shrimp (fresh or frozen, should be shelled, can be any size)
½ cup, light olive oil
2 Tablespoons, butter
12 garlic cloves, minced (use more if you like!)
1 Tablespoon, flour
1 cup chicken broth
¼ teaspoon salt

First, prepare the shrimp. If you bought frozen shrimp, the shrimp needs to be defrosted. This can be done by placing the bag of frozen shrimp in a bowl, and placing the bowl in the refrigerator for about 8-10 hours. Then pour the shrimp from the bag into a bowl and run cold water over the shrimp. Every 5 minutes or so, drain the water off the shrimp and add new cold water until the shrimp is defrosted. If you are taking the shrimp straight from the freezer, you can just use the cold water bath method, as outlined above, to defrost. Once the shrimp is defrosted, drain very well and blot with paper towels. If your shrimp are still frozen or very wet, your dish will turn out too watery.
Heat the olive oil and butter in a large skillet. Add the minced garlic cloves and sauté (don't brown) for about 1 minute. Add flour and stir well. Add chicken broth and salt. Add shrimp. If you are using cooked shrimp, just heat the shrimp for 2-3 minutes on medium low. If you are using raw shrimp, cook the shrimp for about 4-5 minutes or until they turn pink in color. Don't overcook, or the shrimp will be tough. Serve over pasta or rice
Serves 6.
Click on any of the images below to see what I've pinned to Pinterest recently!.  If you like to see the recipes and cooking tips that I discover and pin, I'd love to have you follow me on Pinterest!

Visit Crystal@makedinnereasy's profile on Pinterest.
Thanks for stopping by! 
If you enjoy cooking or are looking for new recipes to try,
these are ways to see more yummy ideas: 
I also share all kinds of cooking tips and recipes on
Facebook . Twitter . Pinterest . and Instagram .
I'd love to have you follow along!

Each page on this site has a comment box, so if you want to share how a recipe turned out or something you added to make it even better, feel free to comment below!