Home Page

>
Appetizer Recipes
> Jambalaya
Jambalaya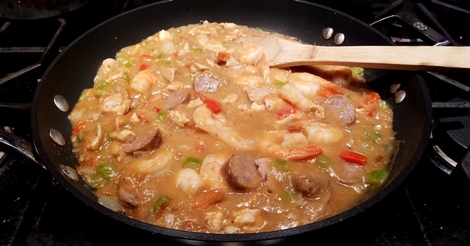 (Prep Time: 10 minutes. Cooking Time: 45 minutes)

4 Tablespoons, butter
¼ cup flour
1 medium onion, diced
4 garlic cloves, minced
½ green pepper, diced
2 stalks of celery, chopped
1 cup, chicken broth
1 (16 ounce) can diced tomatoes, drained
3 cups of a combination of cooked shrimp, cooked and diced chicken and cooked and diced sausage
1/8 teaspoon cayenne pepper
2 bay leaves
½ teaspoon each salt and black pepper, or to taste
3 cups cooked rice

1. In a large skillet, melt butter. Add flour and stir well over medium low heat until mixture starts to brown.
2. Add onion, garlic, green pepper and celery and sauté 2-3 minutes until until tender.
3. Add chicken broth and cook over medium heat for 3-4 minutes until mixture starts to thicken. Add all remaining ingredients, except rice. Cover and simmer over low heat for 30 minutes. Stirring occasionally. 
4. Remove bay leaves and serve over rice.
Serves 4-6.
Here are a few suggestions for making this dish even easier to make

The recipe calls for cooked sausage. I usually plan on making Glazed Sausage for dinner the night before and making a few extra links to use in the Jambalaya the next night

The recipe also calls for cooked shrimp. If you want to make it easy on yourself, pick up about a cup of cooked shrimp in the seafood department of your local grocery store.

The recipe also calls for cooked and diced chicken. Rotisserie Chicken to the rescue. And, since you only need about a cup of chicken you can use the rest for sandwiches or another recipe later in the week. Once you take the cooked rotisserie chicken off the bone, it also freezes very well!

The Jambalaya recipe calls for serving the mixture over rice. My family usually prefers brown rice. If you're going to use that, I would recommend using long-grain brown rice as it's fluffier than short-grain which tends to stick together

Brown rice can take at least 45 minutes to cook so I'd suggest starting the rice as soon as you get home from work. Or, if you're really pressed for time I find it works to cook the rice the night before and once it's cooled store it in a zip-style bag in the fridge. It's not as fabulous as freshly cooked rice but place it in a bowl, add a few drops of water and heat it up in the microwave for 1+ minutes and it's not bad!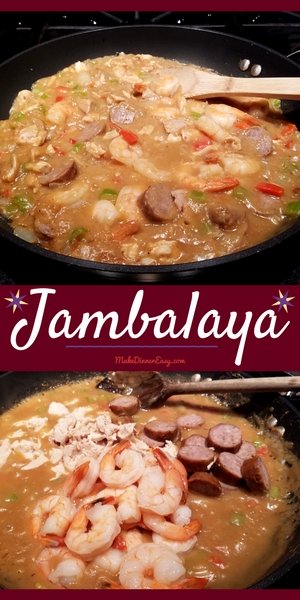 Click on any of the images below to see what I've pinned to Pinterest recently!.  If you like to see the recipes and cooking tips that I discover and pin, I'd love to have you follow me on Pinterest!

Visit Crystal@makedinnereasy's profile on Pinterest.
Thanks for stopping by! 
If you enjoy cooking or are looking for new recipes to try,
these are ways to see more yummy ideas: 
I also share all kinds of cooking tips and recipes on
Facebook . Twitter . Pinterest . and Instagram .
I'd love to have you follow along!

Each page on this site has a comment box, so if you want to share how a recipe turned out or something you added to make it even better, feel free to comment below!