Home Page

>
Seafood Recipes
> Crabby Patties
Crabby Patties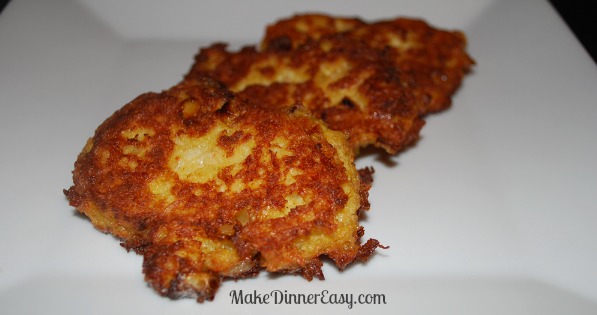 Even though my kids are a little old for Sponge Bob, they still love this recipe for crabby patties. This is really a recipe for crab cakes that can be used as an appetizer or as a main course.  You may think of crab cakes as an expensive meal to make as you can pay a pretty penny for these if you are eating out.  If you live near a coast where fresh crab is plentiful, terrific.  I live in a landlocked area and while I could purchase fresh crab, I usually use canned crab for this recipe, which can often be found on sale.  This is a great pantry recipe, meaning keep a few cans of crab in your pantry and use this recipe if you need to make a quick meal.

Recipe for Crabby Patties
2 (7.1 ounce) cans crab meat, drained well
½ medium onion, chopped
½ cups seasoned dry breadcrumbs
2 eggs beaten
Salt and pepper to taste
2 Tablespoons butter
2 Tablespoons olive oil

In a medium sized mixing bowl, combine crab, onion, breadcrumbs, egg, salt and pepper. Then heat oil and butter in a large skillet on medium low. Using disposable rubber gloves (my preference) form 1-2 Tablespoons of crab mixture into a patty (1 ½ "-2" in diameter). Place patties in pan and brown on both sides. It may take 4-5 minutes per side to brown. Remove patties to a paper towel lined plate and blot off any excess oil.
Makes approximately 14 (2") patties
Serves 6
Click on any of the images below to see what I've pinned to Pinterest recently!.  If you like to see the recipes and cooking tips that I discover and pin, I'd love to have you follow me on Pinterest!

Visit Crystal@makedinnereasy's profile on Pinterest.
Thanks for stopping by! 
If you enjoy cooking or are looking for new recipes to try,
these are ways to see more yummy ideas: 
I also share all kinds of cooking tips and recipes on
Facebook . Twitter . Pinterest . and Instagram .
I'd love to have you follow along!

Each page on this site has a comment box, so if you want to share how a recipe turned out or something you added to make it even better, feel free to comment below!