Home Page

>
Seafood Recipes
> Parmesan Tilapia
Parmesan Tilapia

If you are trying to figure out how to cook tilapia without a lot of fuss, this Parmesan Tilapia recipe is very quick and easy. Oven baked fish recipes usually require less of your time and don't mess up your kitchen. And, this baked tilapia recipe is so fast that you can have dinner on the table in less than 20 minutes.  Special thanks to Sherri from Pinkhumdinger.com for sharing her gorgeous picture!

Parmesan Tilapia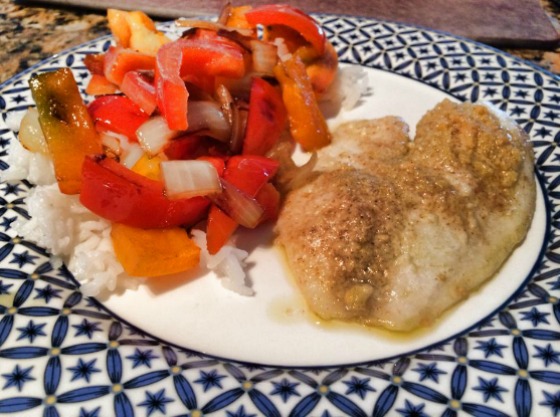 Preparation Time: 5 minutes. Baking Time: 10-12 minutes
2 Tablespoons olive oil
1/4 cup Parmesan cheese
1 teaspoon paprika
1/4 teaspoon each salt and black pepper
4-6 Tilapia Fillets (about 1 pound)

Preheat the oven to 400'F. If you want to increase the ease of clean-up, line a 9"x13"x2" baking pan with aluminum foil. A glass baking pan without foil can also be used. Spread the olive oil on the foil, or in the pan. Place the fish in a single layer in the pan. Carefully turn the fish over so both sides of the fish are coated with the olive oil. In a small bowl, combine the parmesan cheese, paprika, salt and pepper. Spoon about 1 Tablespoon of this mixture over each fish fillet, or use it all if desired. Bake 10-12 minutes or until the thickest part of the fish is opaque.
Serves 4-6
Click on any of the images below to see what I've pinned to Pinterest recently!.  If you like to see the recipes and cooking tips that I discover and pin, I'd love to have you follow me on Pinterest!

Visit Crystal@makedinnereasy's profile on Pinterest.
Thanks for stopping by! 
If you enjoy cooking or are looking for new recipes to try,
these are ways to see more yummy ideas: 
I also share all kinds of cooking tips and recipes on
Facebook . Twitter . Pinterest . and Instagram .
I'd love to have you follow along!

Each page on this site has a comment box, so if you want to share how a recipe turned out or something you added to make it even better, feel free to comment below!