Home Page

>
Pasta Recipes
> Meaty Mostacholi
Recipe Background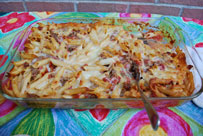 My family gobbles up this recipe for Meaty Mostacholi. I like it because I can make it earlier in the day or even the night before. You can use any combination of ground meat that you desire. I like to use a combination of ground sirloin and bulk italian sausage. If your store is having a sale on Italian sausage links you can squeeze the meat out of the casings or cook the sausage and then cut the links up into bite sized pieces.
Make Ahead Meaty Mostacholi
Preparation Time 30 minutes. Baking Time 30-45 minutes
1 pound cooked mostacholi noodles
1 Tablespoon olive oil
1 medium yellow onion, diced
1 pound bulk Italian sausage (no casings, just ground sausage)
1 pound lean ground beef
2 cloves minced garlic
2 (15 oz.) cans diced tomatoes
1 (15 oz.) can tomato sauce
1 Tablespoon dried oregano
½ teaspoons salt (optional)
3-4 cups grated mozzarella cheese

Cook mostacholi noodles according to package directions. Meanwhile, in a large sized stock pot, sauté onion in olive oil. Add Italian sausage and ground beef and cook until browned. You will need to stir fairly often and use a spoon to break up the meat into small pieces. Add garlic and continue to cook for about 1 minute. Add undrained tomatoes, tomato sauce, oregano and salt if desired. Simmer for about 10 minutes. Add cooked and drained pasta to the sauce and gently mix. Pour mixture into a large baking dish (I use a 9" x 12" x 3" pan) and sprinkle cheese on top. Cover tightly with aluminum foil. You can bake it at this point at 350°F for 30 minutes or refrigerate for up to 24 hours. A refrigerated casserole will need to baked with the foil on for 45-50 minutes at 350°F or until hot. In both cases, remove the foil after the casserole is fully heated and bake an additional 5 minutes or until cheese is melted and slightly browned.
Serves 8-10
Click on any of the images below to see what I've pinned to Pinterest recently!.  If you like to see the recipes and cooking tips that I discover and pin, I'd love to have you follow me on Pinterest!

Visit Crystal@makedinnereasy's profile on Pinterest.
Thanks for stopping by! 
If you enjoy cooking or are looking for new recipes to try,
these are ways to see more yummy ideas: 
I also share all kinds of cooking tips and recipes on
Facebook . Twitter . Pinterest . and Instagram .
I'd love to have you follow along!

Each page on this site has a comment box, so if you want to share how a recipe turned out or something you added to make it even better, feel free to comment below!