Home Page

>
Pasta Recipes
> Baked Macaroni with Triple Cheese
Baked Macaroni with Triple Cheese
When I was growing up I had a friend that thought that the only way you could make mac and cheese was from a blue box.  On the other hand, I grew up with a mother that never bought the blue box.  She always made her own and I've adapted her recipe to make it a bit cheesier.  Sometimes you can just never have enough cheese!  The picture taken below was for a party where I served this recipe along with a few other pasta dishes to the High School volleyball team.  They dived into it before I could even take a picture!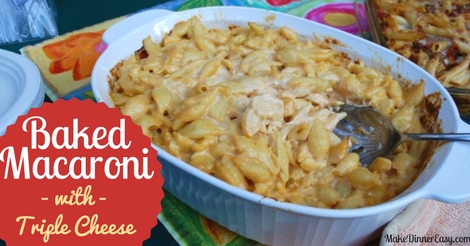 (Prep Time: 25 minutes. Baking Time: 20 minutes)
2 cups (7ounces) uncooked dried elbow macaroni
¼ cup butter
2 Tablespoons flour
1 (12 ounce) can evaporated milk
½ teaspoon salt
6 slices American cheese
3 ounces cream cheese, diced
2 cups (8 ounces) shredded cheddar cheese

Heat oven to 350°. Cook macaroni according to package directions. Drain. Meanwhile, melt butter in a large (3 quart) saucepan, but do not brown. Stir in the flour and cook over medium low heat while stirring. Cook flour and butter for 1-2 minutes or until mixture is smooth and bubbly. Add milk and salt, stirring occasionally. Continue to cook for 3-4 minutes until sauce is thickened. Add American cheese, once slice at a time. Stir between each addition. Add diced cream cheese. Stir well and continue cooking on low until cheeses are melted (if you see a few cream cheese lumps, it's ok). Remove pan from heat and combine cheese sauce with cooked macaroni. Add shredded cheddar cheese and stir until combined. Pour mac and cheese mixture into a greased 2 quart casserole dish. Bake at 350° for 20 minutes
Make Ahead Tip: This can be made ahead and refrigerated. Bake for 25 minutes covered with foil and 15 minutes uncovered or until hot.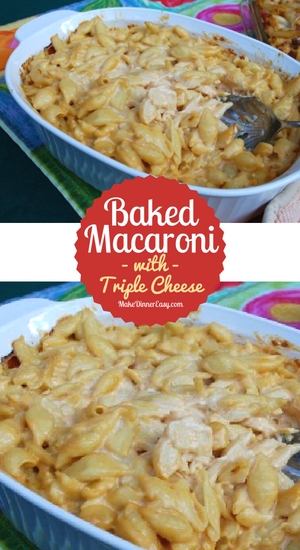 Click on any of the images below to see what I've pinned to Pinterest recently!.  If you like to see the recipes and cooking tips that I discover and pin, I'd love to have you follow me on Pinterest!

Visit Crystal@makedinnereasy's profile on Pinterest.
Thanks for stopping by! 
If you enjoy cooking or are looking for new recipes to try,
these are ways to see more yummy ideas: 
I also share all kinds of cooking tips and recipes on
Facebook . Twitter . Pinterest . and Instagram .
I'd love to have you follow along!

Each page on this site has a comment box, so if you want to share how a recipe turned out or something you added to make it even better, feel free to comment below!