Home Page

>
Pasta Recipes
> Mac and Cheese
Stovetop Mac and Cheese

You really can make homemade mac and cheese in about as much time as it would take you to make the type that comes in a box. Although I do buy the boxed variety, I try to make homemade macaroni and cheese instead, whenever possible. I feel better knowing that my kids aren't eating as many additives and artificial coloring. You can also modify this recipe to use whole wheat or high protein pasta and can try using different cheeses as well.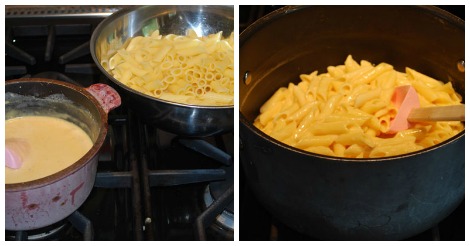 Stove-top Mac and Cheese Recipe

Cooking Time: 15-20 minutes

1 pound dried elbow macaroni
4 Tablespoons butter
4 Tablespoons flour
1 (12 ounce) can evaporated milk
1 (5 ounce) can evaporated milk
(you can substitute 2 cups of milk for the 2 cans of evaporated milk if you prefer)
3/4 teaspoon, salt
2 cups shredded cheddar cheese (or 8-10 slices of processed American cheese)

1. Cook macaroni according to directions on box.
2. Melt butter in a medium saucepan. Add flour and stir until completely blended. Add milk and salt and stir over medium-low heat until blended and mixture starts to thicken. This may take 3-5 minutes.
3. Add cheese and stir well. As a note, lower the heat if using cheddar cheese. 
4. Drain noodles and stir in cheese sauce.
Click on any of the images below to see what I've pinned to Pinterest recently!.  If you like to see the recipes and cooking tips that I discover and pin, I'd love to have you follow me on Pinterest!

Visit Crystal@makedinnereasy's profile on Pinterest.
Thanks for stopping by! 
If you enjoy cooking or are looking for new recipes to try,
these are ways to see more yummy ideas: 
I also share all kinds of cooking tips and recipes on
Facebook . Twitter . Pinterest . and Instagram .
I'd love to have you follow along!

Each page on this site has a comment box, so if you want to share how a recipe turned out or something you added to make it even better, feel free to comment below!