Home Page

>
Pasta Recipes
> No Boil Lasagna
No Boil Lasagna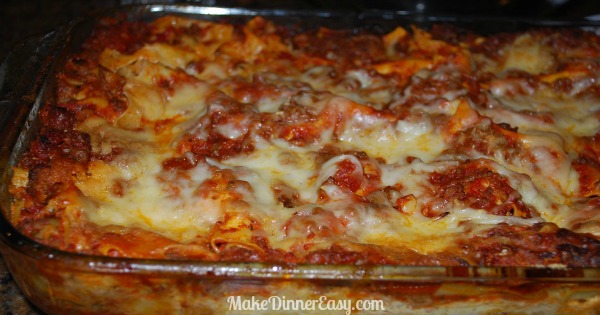 No Boil Lasagna Recipe

Prep Time: 45 minutes Baking Time: 70 minutes
(Can be prepped ahead or made ahead and frozen)

Sauce:
1 Tablespoon olive oil
1 medium onion, diced
6 cloves, garlic
1.5 pounds of ground beef or Italian sausage or a combo of both
1/3 cup cream
1 (28 ounce) can tomato puree
1 (28 ounce) can diced tomatoes, drained
1 (15 ounce) can diced tomatoes, drained
1 Tablespoon dried oregano or basil
Ricotta Filling:
32 ounces ricotta
1/2 cup grated parmesan cheese
1 Tablespoon fresh or dried basil
2 eggs, beaten
½ teaspoon each salt and pepper
1 (9 ounce) box dried flat lasagna noodles
5 cups grated mozzarella
½ cup grated parmesan cheese

Make the sauce by heating olive oil in a medium sized stock pot. Sauté onion and garlic until tender. Add meat and brown meat well. Drain any remaining grease and add rest of sauce ingredients. Simmer until ready to assemble lasagna.Combine all ricotta filling ingredients in a medium sized bowl and set aside.
To make sure you have enough sauce for the top, reserve 3.5 cups of sauce before you start to assemble.
Assemble the lasagna in a 13x9x3" pan (I have also used a 14 x 9.5x2" pan) in the following order:
* Place 1.5 cups of sauce on the bottom of the pan
* Place 4 uncooked noodles on top of the sauce
* Spread about 1/3 of the ricotta mixture over the noodles
* Sprinkle 1 cup of mozzarella over the ricotta
Using the order above, add 3 more layers (use 1/3 of the sauce for each layer). After the final layer, spread the reserved 3.5 cups of sauce on top, sprinkle with the remaining mozzarella cheese and the parmesan cheese. Cover tightly with foil that has been coated with olive oil
Bake in a 350° oven for 35 minutes, then remove the foil and continue to bake for another 25 minutes or until hot and bubbly. Remove from oven and let rest for at least 10 minutes before serving.
Serves: 10-12 (I freeze leftovers in single size serving foil packets for easy reheating)
This can be made ahead and refrigerated or frozen. If freezing, place foil covered baking dish in a jumbo zip style bag before freezing and thaw completely before baking. Extended baking time may be necessary if refrigerated.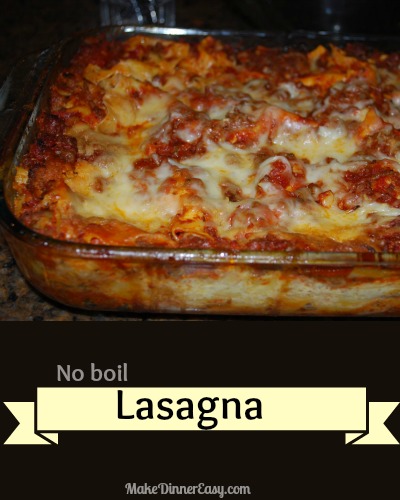 Click on any of the images below to see what I've pinned to Pinterest recently!.  If you like to see the recipes and cooking tips that I discover and pin, I'd love to have you follow me on Pinterest!

Visit Crystal@makedinnereasy's profile on Pinterest.
Thanks for stopping by! 
If you enjoy cooking or are looking for new recipes to try,
these are ways to see more yummy ideas: 
I also share all kinds of cooking tips and recipes on
Facebook . Twitter . Pinterest . and Instagram .
I'd love to have you follow along!

Each page on this site has a comment box, so if you want to share how a recipe turned out or something you added to make it even better, feel free to comment below!