Home Page

>
Pasta Recipes
> Spaghetti and Meatballs
Spaghetti and Meatballs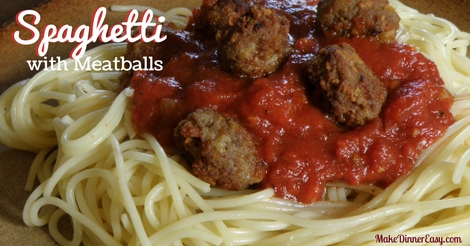 (prep time: 30 minutes, cooking time: minimum of 1-2 hours, can simmer all day)
Sauce:
1 pound lean ground round or a combo of ground sirloin and bulk Italian sausage (see cook's notes)
1 large onion, chopped
1 (28 ounce) can diced tomatoes
1 (28 ounce) can tomato sauce
2 (4 ounce) cans tomato paste
2 garlic cloves, minced
1 Tablespoon dried oregano, or to taste
1 teaspoon salt, or to taste
1 teaspoon black pepper
1 Tablespoon granulated sugar

Meatballs:
1 pound lean ground round or a combo of ground sirloin and bulk Italian Sausage (see cook's notes)
½ onion, minced
1 garlic clove, minced
1 teaspoon, dried oregano
½ teaspoon salt
2 Tablespoons ketchup
1 Tablespoon Worcestershire sauce

1. In a large stock pot, brown meat with chopped onion. You will have more flavor if you really brown the meat.
2. Add rest of sauce ingredients to browned meat and cook over medium low, stirring occasionally
3. Meanwhile, mix all meatball ingredients in a medium sized bowl. Using your hands, make 1" sized meatballs and drop uncooked meatballs into the sauce. Stir very gently between additions. Continue this until all meat has been formed into meatballs and placed in stockpot. Cook mixture on medium for 15 minutes or until sauce is well heated
4. Partially cover the stockpot and continue to let the sauce and meatballs simmer on low for 1-2 hours, stirring occasionally.
5. Taste and adjust seasonings as desired. Serve over pasta. 
Cook's Notes:  I usually make this recipe with 1/2 lean ground sirloin and 1/2 mild bulk Italian sausage.  So if I were making a single batch of this recipe I would buy 1 pound of ground sirloin and 1 pound of Italian Sausage and use a half pound of each in the sauce and a half pound of each for the meatballs.
Make ahead notes: I always double, triple, or even quadruple (you need a really big pot to do this!) this and freeze in small portions. For some reason there usually aren't enough meatballs left to freeze, so I make more when sauce is thawed and reheated.
Servings – 8-10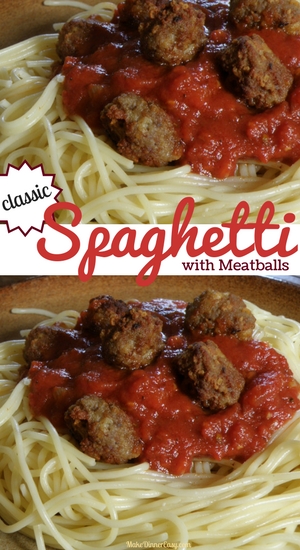 Click on any of the images below to see what I've pinned to Pinterest recently!.  If you like to see the recipes and cooking tips that I discover and pin, I'd love to have you follow me on Pinterest!

Visit Crystal@makedinnereasy's profile on Pinterest.
Thanks for stopping by! 
If you enjoy cooking or are looking for new recipes to try,
these are ways to see more yummy ideas: 
I also share all kinds of cooking tips and recipes on
Facebook . Twitter . Pinterest . and Instagram .
I'd love to have you follow along!

Each page on this site has a comment box, so if you want to share how a recipe turned out or something you added to make it even better, feel free to comment below!