Home Page

>
Pasta Recipes
> Spaghetti Pie
Spaghetti Pie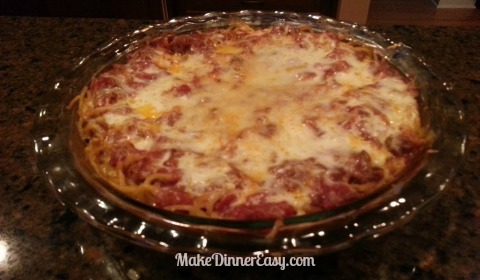 My oldest son loves this recipe for spaghetti pie. I love this recipe because it's a great dish to make ahead and can even be stored in the freezer. I often make a double or triple batch of this so that I can freeze a few for a busy day when I don't have time to cook.
Spaghetti Pie Recipe

(Prep Time: 20 minutes. Baking Time: 20 minutes
1 pound lean ground beef
½ cup chopped onion
1 (15 ounce) jar spaghetti sauce
6 ounces dried spaghetti noodles
2 Tablespoons, butter
2 eggs, beaten
¾ cup shredded Parmesan cheese, divided
1 cup ricotta or cottage cheese
¾ cup shredded mozzarella cheese

In a large skillet, brown the beef and the onions very well. Stir in spaghetti sauce.
Meanwhile, cook and drain the spaghetti noodles. Mix cooked noodles with butter, beaten eggs and half of the Parmesan cheese. Press the noodles into the bottom and sides of a greased 10"pie plate (this forms the "crust"). Mix the ricotta with the remaining half of the Parmesan cheese. Spread this mixture on top of the noodles. Pour the spaghetti sauce mixture on top of the ricotta, completely covering all of the ricotta and all the noodles. Sprinkle with mozzarella cheese and bake 20 minutes at 350°F.
Cut into pie shaped wedges.
Serves 6.

Pin it for Later!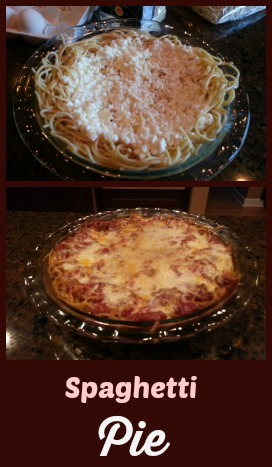 This freezes well. I often make extras and freeze them for a quick meal on a later date.

Click on any of the images below to see what I've pinned to Pinterest recently!.  If you like to see the recipes and cooking tips that I discover and pin, I'd love to have you follow me on Pinterest!

Visit Crystal@makedinnereasy's profile on Pinterest.
Thanks for stopping by! 
If you enjoy cooking or are looking for new recipes to try,
these are ways to see more yummy ideas: 
I also share all kinds of cooking tips and recipes on
Facebook . Twitter . Pinterest . and Instagram .
I'd love to have you follow along!

Each page on this site has a comment box, so if you want to share how a recipe turned out or something you added to make it even better, feel free to comment below!