Home Page

>
Pasta Recipes
> Lasagna Roll Ups
Lasagna Roll Ups
This is an interesting recipe because it's a great way to serve a crowd and is also a great recipe for if you only want to make 1-2 servings.  Even with my large family, they don't always eat a whole pan of lasagna and aren't always interested in leftovers.  By making these individual portions that are baked together you can commit to only making a few, or a lot, and the leftovers are sized to freeze well.  Special thanks to a follower of this site who not only made this dish for her family but shared her pictures on Facebook and gave me permission to post here.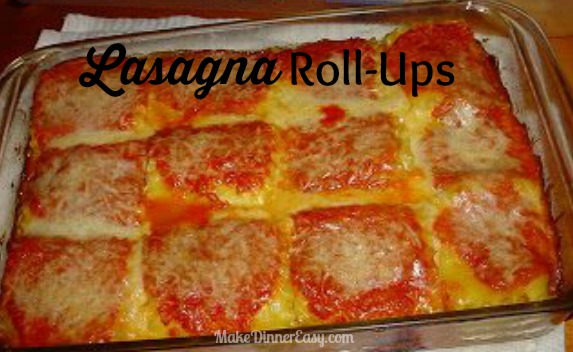 Lasagna Roll Ups Recipe

1 pound box, lasagna noodles
1 pound ricotta cheese
¼ pound shredded mozzarella cheese
¼ cups bread crumbs
¼ teaspoon salt
¼ cup fresh parsley
1 (10 ounce) package frozen spinach
1 egg, beaten
1 (1 pound, 10 ounce) jar spaghetti sauce
¼ cup parmesan cheese

Boil lasagna noodles as directed. Cook spinach in microwave for 3-4 minutes or until thawed. Place thawed spinach in a sieve and using a spoon, press out all of the liquid.
In a medium size bowl, mix spinach, ricotta, mozzarella cheese, bread crumbs, salt, parsley and egg. Once noodles are cooked, drain and place in cool water. Place ½ of the spaghetti sauce in the bottom of a 9" x 12" x 2" glass baking dish.
Take one noodle at a time out of the water and blot off with a towel or paper towel and lay the noodle on a cutting board or flat surface. Cut the noodle in half (so it is half as long). Spread a thin layer of the mixture all over one side of the noodle and starting at one narrow end, roll the noodle and filling mixture up. Repeat with all noodles. Place each noodle roll in the baking dish. Pour the remaining sauce over the top of the noodle rolls. Sprinkle with parmesan cheese. Cover pan with foil. Bake at 375° for 15 minutes. Remove foil and bake for an additional 15 minutes or until hot.
Make ahead tip: Make these a few hours or a day ahead of time and bake 25 minutes with foil on and 20 minutes after removing foil or until hot.
(Serves 6-8 – leftovers taste great!)
Want To Make This Recipe On Another Day?  Pin It For Later!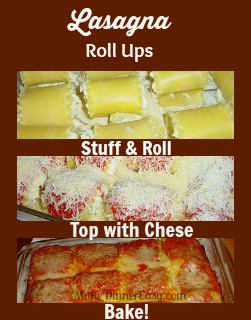 Click on any of the images below to see what I've pinned to Pinterest recently!.  If you like to see the recipes and cooking tips that I discover and pin, I'd love to have you follow me on Pinterest!

Visit Crystal@makedinnereasy's profile on Pinterest.
Thanks for stopping by! 
If you enjoy cooking or are looking for new recipes to try,
these are ways to see more yummy ideas: 
I also share all kinds of cooking tips and recipes on
Facebook . Twitter . Pinterest . and Instagram .
I'd love to have you follow along!

Each page on this site has a comment box, so if you want to share how a recipe turned out or something you added to make it even better, feel free to comment below!