Home Page

>
Pasta Recipes
> Mexican Mostacholi
Mexican Mostacholi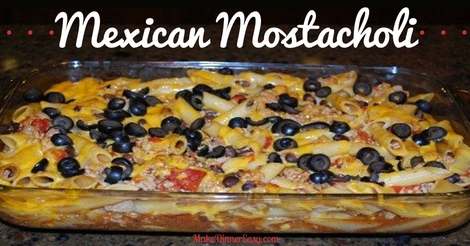 Mexican Mostacholi combines healthy ground turkey and black beans with Mexican spices, penne pasta, and cheddar cheese for a new type of dinner casserole. If you are looking for a ground turkey recipe or black bean recipes, this fits the bill. Not only that, but my family loved it!
Mexican Mostacholi
Preparation Time: 30 minutes Baking Time: 25 minutes
1 pound penne or rotini pasta
2 teaspoons olive oil
1 medium yellow onion, diced
2 cloves minced garlic
1 - 1.25 pounds ground turkey
1 large can (29 ounce) diced tomatoes, undrained
1 Tablespoon chili powder
1/2 teaspoon cumin
1/2 teaspoon salt
1 (16 ounce) can black beans, drained
2 cups shredded cheddar cheese
1 (2.25 ounce) can sliced black olives, drained

Cook pasta as directed. Meanwhile, saute the onions and garlic in olive oil in a large non-stick skillet. Add the ground turkey and brown the meat. Use two spoons to separate the turkey into small chunks as it browns. Add the undrained diced tomatoes, the seasonings and the drained black beans. Simmer for 1-2 minutes. Combine the drained penne pasta, the turkey and tomato mixture and 3/4 cup of the shredded cheddar cheese and pour the combined mixture into a 9"x13"x2" baking pan. Sprinkle the remaining shredded cheese on top along with the drained sliced black olives. Cover with foil and bake at 350'F for 20 minutes. Uncover and bake an additional 5 minutes.
Serves 8 and leftovers are great for lunch. This recipe can also be cut in half and baked in a smaller pan.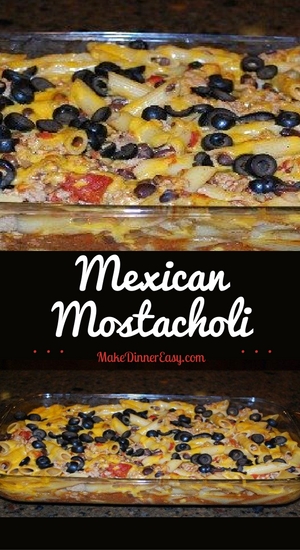 Click on any of the images below to see what I've pinned to Pinterest recently!.  If you like to see the recipes and cooking tips that I discover and pin, I'd love to have you follow me on Pinterest!

Visit Crystal@makedinnereasy's profile on Pinterest.
Thanks for stopping by! 
If you enjoy cooking or are looking for new recipes to try,
these are ways to see more yummy ideas: 
I also share all kinds of cooking tips and recipes on
Facebook . Twitter . Pinterest . and Instagram .
I'd love to have you follow along!

Each page on this site has a comment box, so if you want to share how a recipe turned out or something you added to make it even better, feel free to comment below!