Home Page

>
Pasta Recipes
> Creamy Baked Ziti
Creamy Baked Ziti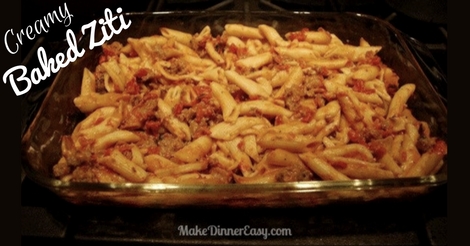 (Prep Time: 30 minutes. Bake Time 20 minutes)

1 pound uncooked ziti noodles
1 pound ground turkey
1 onion, chopped
1 (15 ounce) diced tomatoes
1 Tablespoon oregano
1 Tablespoon butter
2 garlic cloves, minced
1 Tablespoon flour
1 (12 ounce can) evaporated milk
4 ounces cream cheese (reduced fat is ok to use)
1 teaspoon salt, divided
1.5 cups shredded mozzarella cheese

1. Cook noodles according to package directions and drain
2. In a large skillet, brown the turkey and onion. Add tomatoes, oregano and ½ teaspoon salt. Simmer on low
3. In a medium saucepan, melt butter and sauté garlic. Remove from heat and stir in flour until combined. Return to low heat and add milk, cream cheese and salt. Stir until thickened. It's ok if there are a few cream cheese lumps!
4. Add cream cheese sauce to drained noodles and stir. Pour this mixture into a glass 10x15" casserole dish. Spread meat sauce on top of noodles. Sprinkle cheese on top of the meat sauce.
5. Bake uncovered at 375° for 20 minutes or until cheese is melted.
This can be made earlier in the day and then baked for 40 minutes or until hot.
Serves: 6
Ratings and Reviews
I have to tell you I absolutely love your recipes and this idea in general!! One of my favorites was your baked ziti with the couple extra steps for the cream cheese/evaporated milk. I've used it a couple times when I have big groups with kids because everyone likes it and I can make ahead. Thank you!
Traci D.
Want to make this on another day?  Pin it for later!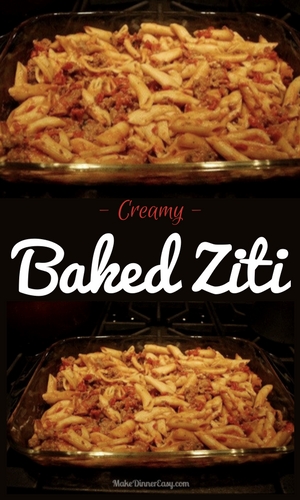 Click on any of the images below to see what I've pinned to Pinterest recently!.  If you like to see the recipes and cooking tips that I discover and pin, I'd love to have you follow me on Pinterest!

Visit Crystal@makedinnereasy's profile on Pinterest.
Thanks for stopping by! 
If you enjoy cooking or are looking for new recipes to try,
these are ways to see more yummy ideas: 
I also share all kinds of cooking tips and recipes on
Facebook . Twitter . Pinterest . and Instagram .
I'd love to have you follow along!

Each page on this site has a comment box, so if you want to share how a recipe turned out or something you added to make it even better, feel free to comment below!