Home Page

>
Pasta Recipes
> Turkey Lasagna
Recipe Background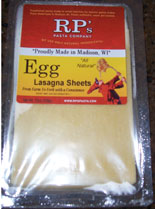 Lasagna isn't the quickest or easiest dish to make but I've included some shortcuts in this Turkey Lasagna to make it easier and a bit quicker than traditional recipes. This recipe is also a bit lighter than traditional lasagna recipes with the use of turkey, low-fat cottage cheese, and less mozzarella cheese. My family can't tell the difference between this and heavier versions. The biggest difference in this recipe is the use of fresh lasagna noodles, pictured at the right. I LOVE THESE, and rarely make lasagna without them! Although they are really easy to use,they are not the easiest things to find. I can usually find them at Whole Foods in a refrigerated case near the deli. If you can't find these you can use traditional lasagna noodles instead.
Turkey Lasagna
Preperation Time: up to 45 minutes. Baking and Resting Time: 65 minutes
Meat Sauce
1 Tablespoon olive oil
1 large onion, diced
3 garlic cloves, minced
1 - 1.5 pounds lean ground turkey
1 (28 oz.) jar spaghetti sauce
1 Tablespoon dried oregano

Cheese Filling
1 (24 oz.) container low-fat cottage cheese
2 eggs
1/2 teaspoon each, salt and ground black pepper
1/2 cup grated Parmesan cheese
1 cup shredded mozzarella cheese

Remaining Ingredients
1 (12 oz.) package fresh lasagna noodles (or lasagna sheets)
or 1 pound cooked and drained lasagna noodles
1 cup shredded mozzarella cheese

Prepare meat sauce by heating olive oil in a large skillet. Add the diced onion and minced garlic and saute until tender. Add meat and cook until fully cooked and browned, breaking up the meat into small clumps as it cooks. When meat is fully cooked, add spaghetti sauce and oregano and simmer for 5 minutes.
Meanwhile prepare the cheese filling by mixing all the filling ingredients in a medium sized bowl.
Assemble the lasagna by:
spreading 1 cup of meat sauce on the bottom of a 10"x15"x2" pan,
place 1/3 of the noodles on top,
place 1/2 of the cheese filling on top of the noodles,
top with 1 cup of sauce,
then top with 1/3 of the noodles,
then top with the remaining cheese filling,
then top with another cup of meat sauce,
then top with the remaining noodles,
then pour the remaining meat sauce evenly over the top.
Each layer should be spread out evenly with the back of a spoon. Top with 1 cup of shredded mozzarella cheese. Cover the lasagna with aluminum foil.
The lasagna can either be baked at this point or refrigerated for baking later in the day. To cook, bake the lasagna, covered, for 40 minutes at 350'F. Then uncover and bake for an additional 10 minutes, until cheese is melted and bubbly.
serves 8-10 (leftovers are great)
Click on any of the images below to see what I've pinned to Pinterest recently!.  If you like to see the recipes and cooking tips that I discover and pin, I'd love to have you follow me on Pinterest!

Visit Crystal@makedinnereasy's profile on Pinterest.
Thanks for stopping by! 
If you enjoy cooking or are looking for new recipes to try,
these are ways to see more yummy ideas: 
I also share all kinds of cooking tips and recipes on
Facebook . Twitter . Pinterest . and Instagram .
I'd love to have you follow along!

Each page on this site has a comment box, so if you want to share how a recipe turned out or something you added to make it even better, feel free to comment below!