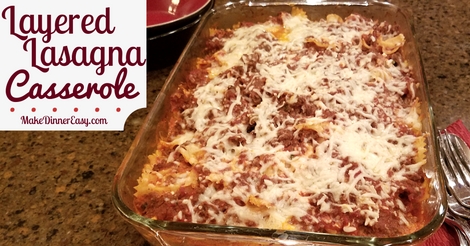 Recipe Background
I have made this layered lasagna casserole recipe countless times. It can be made ahead, and travels well. This recipe also doubles easily; you can make a double batch and freeze one batch to eat on another night when you don't have the time or energy to cook.  If you are going to freeze it, I would omit the last layer of mozzarella and parmesan cheese on top.  Just make a note for yourself to add this after you thaw it at a later date.  This is also a great recipe to make for a friend or neighbor as it can be made and reheated and even stored in the freezer.

Layered Lasagna Casserole
(Prep Time: 30 minutes. Baking Time: 35 minutes)
1 lb lean ground beef or turkey
½ chopped onion
32 oz jar spaghetti sauce
12 oz box medium size pasta, such as farfalle, cooked according to directions on box
2 lb container ricotta cheese
1 egg
¼ cup fresh parsley (not necessary, but it's nice)
½ teaspoon black pepper
½ teaspoon salt
2 cups (8 oz.) shredded mozzarella cheese
Grated Parmesan cheese

Brown meat and onion until done and well browned. Stir in spaghetti sauce and simmer for 15 minutes. Meanwhile cook pasta. Heat oven to 375. In a large bowl, combine ricotta, egg, parsley, pepper and salt. Layer the ingredients in a 13 x 9 x 2 baking dish, in the following order:
* 1/3 of the meat sauce, then
* ½ of the hot pasta, then
* cover with ½ of the ricotta mixture, then
* 1 cup mozzarella, then
* 1/3 of the meat sauce, then
* the rest of the pasta, then the rest of the ricotta, then
* 1/3 of the meat sauce, then
* the rest of the mozzarella
* sprinkle with Parmesan cheese

Cover with aluminum foil. Bake for 30 minutes. Remove foil and bake 5 more minutes or until bubbly. If you make this ahead and bake it, allow for at least 60 minutes to get hot and bubbly. If frozen, thaw 1-2 days ahead of time in the refrigerator.
Cooking notes:
In this recipe, fresh parley refers to flat Italian parsley.  If you are not sure what that is, I can give you a few hints.  There are three things that might look like parsley at the grocery store; curley parsley, flat italian parsley, and cilantro.  Only the later two have flat leaves and if you aren't careful you can mix them up.  If you aren't sure if you are buying parsley or cilantro, I would recommend sniffing them.  The cilantro will remind you of salsa or mexican food, where the parsley just smells fresh!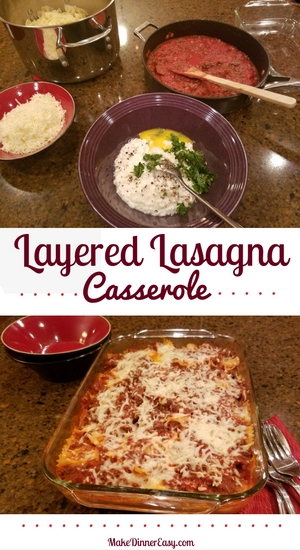 Click on any of the images below to see what I've pinned to Pinterest recently!.  If you like to see the recipes and cooking tips that I discover and pin, I'd love to have you follow me on Pinterest!

Visit Crystal@makedinnereasy's profile on Pinterest.
Thanks for stopping by! 
If you enjoy cooking or are looking for new recipes to try,
these are ways to see more yummy ideas: 
I also share all kinds of cooking tips and recipes on
Facebook . Twitter . Pinterest . and Instagram .
I'd love to have you follow along!

Each page on this site has a comment box, so if you want to share how a recipe turned out or something you added to make it even better, feel free to comment below!