Baked Sub Sandwiches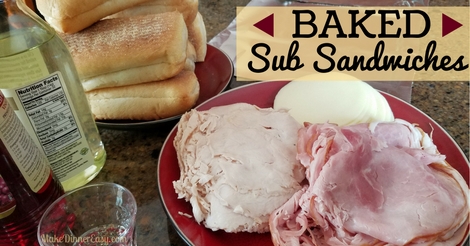 This Baked Sub Sandwich recipe is an easy way to make restaurant style hot submarine sandwiches for a few people or a crowd. You can even make these up to 8 hours in advance if you're careful to pour the dressing only on the meat and cheese (don't let it get on the bread or the bread will get soggy!) These are great to serve when watching a football game on TV, or when you're having a bunch of hungry kids over. They also travel well if you're going on a picnic. 
Dressing Ingredients:
2 Tablespoons light olive oil
1 teaspoon dried oregano
1 teaspoon red wine vinegar
1/2 teaspoon dijon mustard
1/8 teaspoon salt

Sandwich Ingredients:
4 Hoagie or sub sandwich rolls
8 slices provolone cheese
8 slices thinly sliced deli turkey
1/2 pound shaved deli ham
1 small tomoato thinly sliced (blot dry with a paper towel)
1-2 slices thinly sliced red onions

Combine all of the dressing ingredients in a small bowl or cup and set aside. Tear 4 sheets of aluminum foil about 14" long. For each sandwich, open up a hoagie roll and place the roll on a sheet of aluminum foil. Place 2 slices of cheese, 2 slices of sliced turkey, 1/4 of the ham, a few slices of tomato and onion inside the roll, covering the inner surface of the roll. Pour 1-2 teaspoons of the dressing over the meat and tomatoes trying not to get any dressing on the bread (it will make the bread soggy). Wrap and seal foil around sandwich. Bake at 350'F for 15-20 minutes.
Serves 4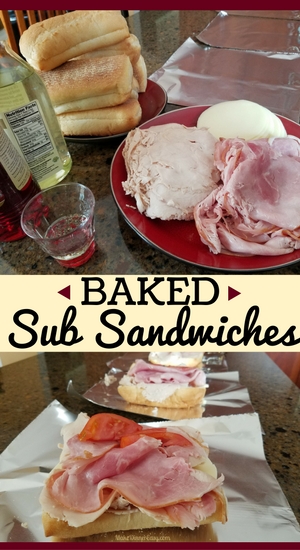 Click on any of the images below to see what I've pinned to Pinterest recently!.  If you like to see the recipes and cooking tips that I discover and pin, I'd love to have you follow me on Pinterest!

Visit Crystal@makedinnereasy's profile on Pinterest.
Thanks for stopping by! 
If you enjoy cooking or are looking for new recipes to try,
these are ways to see more yummy ideas: 
I also share all kinds of cooking tips and recipes on
Facebook . Twitter . Pinterest . and Instagram .
I'd love to have you follow along!

Each page on this site has a comment box, so if you want to share how a recipe turned out or something you added to make it even better, feel free to comment below!