Home Page

>
Chicken Recipes
> Chicken and Dumpling Casserole
Chicken and Dumpling Casserole

I have made this Chicken and Dumpling Casserole countless times for my family, and it has been a favorite on this site for years.
It's also a great dish to make if you need to bring another family a meal as it travels well. Although you can use left over roast chicken or chicken you cook yourself.  I almost always use a pre-cooked rotisserie chicken I purchase from the store. 
The recipe calls for a drop bisquit topping but you can also use refrigerated biscuits that come in a tube as show to the left.
Hope you enjoy!
Chicken and Dumpling Casserole Recipe

(prep time 30 minutes, cooking time 45 minutes)

Casserole:
¼ cup butter
½ cup chopped onion
½ cup chopped celery
2 garlic cloves, minced
½ cup flour
1 teaspoon, sugar
1 teaspoon salt
½ teaspoon freshly ground black pepper
1 teaspoon dried basil
4 cups chicken broth 
1 teaspoon chicken bouillon or to taste 
1 (9 ounce) bag frozen peas, thawed
4 cups cooked chicken 
Dumplings:
2 cups biscuit mix (such as bisquick)
2 teaspoons dried basil
2/3 cups milk

In a large saucepan, melt butter and sauté onion, celery and garlic until soft. Add flour, sugar, salt, pepper and basil. Mix until flour is mixed in well. Add broth and bring to a boil, stirring until mixture is blended and thickened. Add bouillon and stir. Taste and adjust seasonings as desired. Stir in chicken and peas. Pour mixture into a 13x9x2" glass baking dish. If you are making the dish ahead of time it can be covered and refrigerated at this point.
1 hour before you wish to serve, make dumplings by combining dumpling ingredients in a medium bowl. Drop 2-3 Tablespoons of dumpling mixture on top of casserole in approximately 12 separate mounds. Bake uncovered at 350°F for 30-45 minutes (bake for the longer time if mixture has been refrigerated). Cover with foil if necessary (so dumplings don't get too brown) and bake for an additional 10 minutes or until casserole is hot and bubbly.
Serves 6-8.

Freezing Note – if you want to make this ahead and freeze, don't freeze with the dumplings on. Make the recipe up to the point of making the dumplings and freeze. Then when thawed, make the dumplings and bake as directed.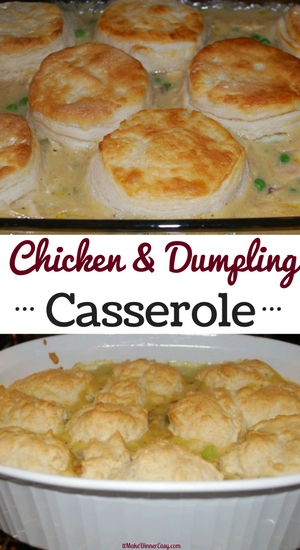 Click on any of the images below to see what I've pinned to Pinterest recently!.  If you like to see the recipes and cooking tips that I discover and pin, I'd love to have you follow me on Pinterest!

Visit Crystal@makedinnereasy's profile on Pinterest.
Thanks for stopping by! 
If you enjoy cooking or are looking for new recipes to try,
these are ways to see more yummy ideas: 
I also share all kinds of cooking tips and recipes on
Facebook . Twitter . Pinterest . and Instagram .
I'd love to have you follow along!

Each page on this site has a comment box, so if you want to share how a recipe turned out or something you added to make it even better, feel free to comment below!