Home Page

>
Chicken Recipes
> Chicken Pot Pie Recipe
Chicken Pot Pie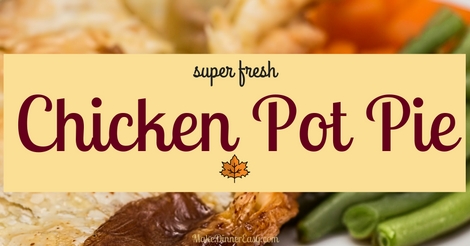 Most chicken pot pie recipes call for canned cream soup, not this one. This chicken pot pie recipe calls for chicken broth and milk to make the sauce, that allows you to control the salt and fat content. To make the preparation easier I recommended buying a pre-cooked rotisserie chicken, but you could always use leftover chicken or cook your own.
Chicken Pot Pie Recipe
(Prep Time: 25 minutes. Baking Time: 45 minutes)

3 small red potatoes, diced (I leave them unpeeled)
½ onion, diced
2 stalks celery, diced
1-2 carrots, diced
3 Tablespoons, butter
½ cup, flour
2 cups, chicken broth
¾ cup fat free half and half, or low fat evaporated milk
1 teaspoon chicken bouillon or Better Than Broth concentrated chicken stock paste
Salt and pepper to taste
4 cups, diced cooked chicken
1 pre-made refrigerated pie crust or make your own

1. Melt butter in a large stock pot. Add diced potatoes, onions, celery and carrots. Sauté 8-10 minutes. Remove from heat and stir in flour very well.
2. Return to medium heat and add broth and milk. Stirring constantly until mixture has thickened. 
3. Add bouillon, seasonings and chicken.
4. Pour mixture into a 2 quart casserole dish. Top with pie crust or cut star shapes out of pie crust and place on top of chicken mixture. If whole crust is placed on top, cut several ½ inch slits in the crust to allow steam to escape and crimp edges of crust.
5. Bake in an oven that has been pre-heated to 350°F for 45 minutes or until crust is browned
Serves 4-6. This can be doubled and placed in a 10x15x2" baking pan.
This can also be made ahead or made ahead and frozen without the crust on top. Add the crust, just prior to baking.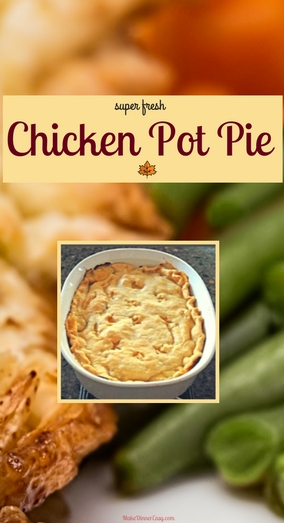 Click on any of the images below to see what I've pinned to Pinterest recently!.  If you like to see the recipes and cooking tips that I discover and pin, I'd love to have you follow me on Pinterest!

Visit Crystal@makedinnereasy's profile on Pinterest.
Thanks for stopping by! 
If you enjoy cooking or are looking for new recipes to try,
these are ways to see more yummy ideas: 
I also share all kinds of cooking tips and recipes on
Facebook . Twitter . Pinterest . and Instagram .
I'd love to have you follow along!

Each page on this site has a comment box, so if you want to share how a recipe turned out or something you added to make it even better, feel free to comment below!