Home Page

>
Turkey Recipes
> Meatballs with Mega Mushroom
Turkey Meatballs
with Mega Mushroom Gravy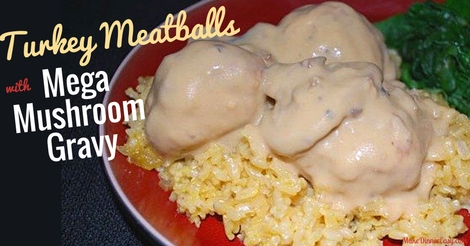 I've incorporated several techniques in this recipe for Turkey Meatballs to make it easier and more tasty. I use an oven baking method to cook and brown the meatballs to avoid the effort it takes to pan cook the meatballs. I've also incorporated one of my favorite tricks to improve flavor; I love to use two textures of the same ingredient. By having both sliced and chopped mushrooms in the recipe improves both the flavor and body of this dish. If you don't want to make a dish with mega mushrooms, you certainly can omit one of the containers of mushrooms if you prefer. Either way this is a warm, stick to your ribs kind of meal that is great during cooler months.
Turkey Meatballs with Mega Mushroom Gravy Recipe
Preperation Time: 30 minutes. Cooking Time: 20 minutes
Meatballs: (see cook's notes)
1 egg
1Tablespoon ketchup
1 teaspoon salt
1 teaspoon Worcestershire sauce
1 Tablespoon milk
¾ cup old fashioned uncooked oats
1 – 1.25 lbs. lean ground turkey or lean ground beef

Mushroom Gravy:
4 Tablespoons butter, divided
2 (8 oz.) cartons sliced mushrooms
½ onion, diced (about 1 cup)
½ cup flour
2 ½ cups beef broth
2/3 cup fat free half and half or milk or a 5 oz can of evaporated milk
¾ teaspoon salt

To make the meatballs, preheat oven to 375°F. Place egg in a medium sized bowl and beat well. Stir in the ketchup, salt, Worcestershire, and milk. Add the oats and stir until the oats are coated with the liquid ingredients. Add the meat and mix using your hands (I use disposable gloves for this!). Form into 2" meatballs and place meatballs on a rimmed cookie sheet lined with non-stick foil. Bake at 375°F for 20 minutes. (This makes about 15-17 two inch meatballs)
Meanwhile, to make the gravy, melt 1 Tablespoon of the butter in a large saucepan. Add one of the 8 oz. containers of sliced mushroom and sauté until tender. Transfer the sautéed, sliced mushrooms into a small bowl and set aside. Finely chop the remaining 8 oz. container of uncooked mushrooms. Using the same saucepan, melt the remaining 3 Tablespoons of butter. Add the chopped mushrooms and the onion and sauté until tender. Remove the pan from the heat and stir the flour in well. Return the pan to medium heat and add the broth, milk and salt. Stir until mixture thickens (1-3 minutes). Add the sliced mushrooms that were previously sautéed and let this mixture simmer on low until the meatballs are done, stirring occasionally. Add the cooked meatballs to the mushroom gravy and allow to simmer for 5-10 minutes. Serve over rice or noodles
Serves 5-6 and leftovers can be frozen
Cook's notes: If you don't have time to make your own meatballs, you can use cooked frozen meatballs. It won't taste as good, but you can improve the flavor if you brown the meatballs. I would suggest placing the desired number of cooked frozen meatballs on a plate and heating in the microwave for about 2 minutes. Then, place the meatballs in a non-stick skillet (no oil should be necessary) and brown the meatballs over medium heat, shaking the pan or stirring so all sides are browned. Then transfer the browned meatballs into the mushroom gravy.
This dish can also be made earlier in the day and then reheated prior to serving.
Click on any of the images below to see what I've pinned to Pinterest recently!.  If you like to see the recipes and cooking tips that I discover and pin, I'd love to have you follow me on Pinterest!

Visit Crystal@makedinnereasy's profile on Pinterest.
Thanks for stopping by! 
If you enjoy cooking or are looking for new recipes to try,
these are ways to see more yummy ideas: 
I also share all kinds of cooking tips and recipes on
Facebook . Twitter . Pinterest . and Instagram .
I'd love to have you follow along!

Each page on this site has a comment box, so if you want to share how a recipe turned out or something you added to make it even better, feel free to comment below!