Home Page

>
Turkey Recipes
> Turkey Tetrazzini
Recipe Background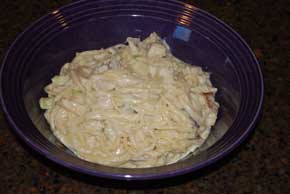 This recipe for Turkey Tetrazzini is a great way to use leftover turkey after Thanksgiving or if you have turkey left after a holiday meal. It can also be make ahead and frozen if you've already eaten your fill of turkey. Of course, if you don't have leftover turkey, cooked chicken can also be substituted for the turkey in this recipe.
Turkey Tetrazzini
(Prep Time: 25 minutes Baking Time 30 minutes)
(Can be made ahead or made ahead and frozen)

3 Tablespoons butter
½ onion, diced
2 stalks celery, diced
1 cup sliced fresh mushrooms
6 Tablespoons, flour
1 ½ cups chicken broth
1 cup fat free half and half or evaporated milk
3 ounces cubed cream cheese
2 cups cubed, cooked turkey
8 ounces dried spaghetti noodles (double check your quantity, most packages are 16 ounces, so this is 1/2 of of a 16 ounce package)
1/2 teaspoon salt, or to taste¼ cup Parmesan cheese

Break spaghetti noodles in 2-3" pieces and cook according to package directions. Meanwhile, melt butter in a stock pot; add onion and celery and sauté until tender. Add mushrooms and sauté for 2-3 minutes. Remove from heat and stir in flour. When flour is completely mixed in, add broth and milk and return to medium low heat, stirring until mixture thickens. Add cream cheese and salt and continue to stir until cream cheese is melted (it's ok if there are a few lumps left). Add turkey and cooked and drained spaghetti noodles. Stir and transfer mixture into a greased 13 x 9 x 2" baking dish. Sprinkle with Parmesan cheese. Bake at 350° for 30 minutes
Serves 6-8 and leftovers work great for lunch. 
Click on any of the images below to see what I've pinned to Pinterest recently!.  If you like to see the recipes and cooking tips that I discover and pin, I'd love to have you follow me on Pinterest!

Visit Crystal@makedinnereasy's profile on Pinterest.
Thanks for stopping by! 
If you enjoy cooking or are looking for new recipes to try,
these are ways to see more yummy ideas: 
I also share all kinds of cooking tips and recipes on
Facebook . Twitter . Pinterest . and Instagram .
I'd love to have you follow along!

Each page on this site has a comment box, so if you want to share how a recipe turned out or something you added to make it even better, feel free to comment below!