Home Page

>
Turkey Recipes
> Turkey Stuffed Zucchini
Turkey Stuffed Zucchini Boats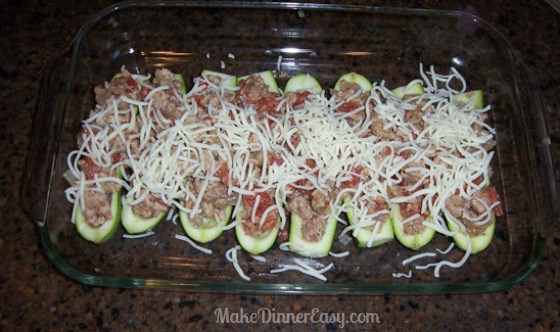 My friend Dana gave me this idea for Turkey Stuffed Zucchini Boats years ago. I love it because it's delicious and it's one of the few ways I can get my kids to eat zucchini! Since she is one of those great cooks that never measures, I've added specific measurements to her recipe.
This dish can be made earlier in the day and then placed in the oven 30-40 minutes before you want to serve dinner. Any leftovers you have are also great for lunch the next day. If you have zucchini in your garden or want to take advantage of summer zucchini sales, this is a great recipe to try.
Recipe for Turkey Stuffed Zucchini Boats
Preparation Time: 15 minutes. Baking Time 30 minutes

4 zucchini, each about 6-7"in length
1 teaspoon olive oil
½ large onion, diced
2 garlic cloves
¾ pound ground turkey
1 egg, beaten
1/3 cup seasoned bread crumbs
1 Tablespoon dried basil or oregano
1 (15 ounce) can diced tomatoes, drained
1 cup grated mozzarella cheese

Heat the olive oil in a large skillet and sauté the onions and garlic. Add the ground turkey and continue to cook until the turkey is browned and fully cooked. As the turkey is cooking, make sure to break up the meat into small clumps.
Meanwhile, cut each zucchini in half lengthwise. Using a spoon, scrape out the center pulp of each zucchini half. Discard the pulp. Place the zucchini halves, with the hollowed out portion facing up, in a rectangular glass baking dish.
When the turkey is browned, remove from heat and add the beaten egg, breadcrumbs, seasoning and drained diced tomatoes. Spoon the turkey mixture into each zucchini half. Sprinkle with mozzarella cheese.Bake at 350°F for 25 minutes covered with foil and for an additional 5 minutes uncovered. These can be made several hours in advance and refrigerated. The cooking time may need to be extended additional 5 or so minutes so that the boats are hot and bubbly.
Serves 4-6 
Want to Save this for another day?  Pin it for later!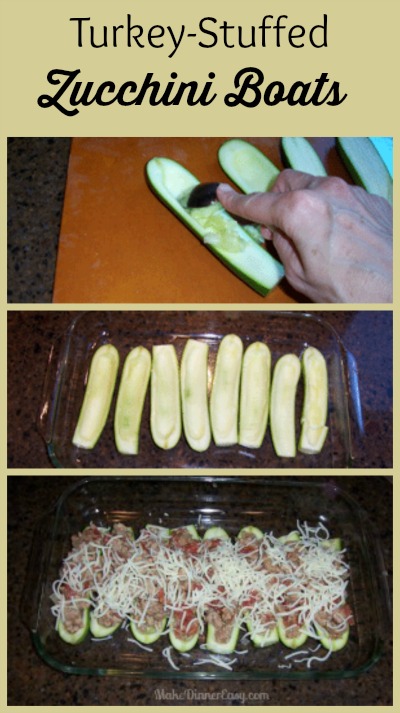 See it in action!  A video on how to make these Turkey Stuffed Zucchini Boats!

Click on any of the images below to see what I've pinned to Pinterest recently!.  If you like to see the recipes and cooking tips that I discover and pin, I'd love to have you follow me on Pinterest!

Visit Crystal@makedinnereasy's profile on Pinterest.
Thanks for stopping by! 
If you enjoy cooking or are looking for new recipes to try,
these are ways to see more yummy ideas: 
I also share all kinds of cooking tips and recipes on
Facebook . Twitter . Pinterest . and Instagram .
I'd love to have you follow along!

Each page on this site has a comment box, so if you want to share how a recipe turned out or something you added to make it even better, feel free to comment below!