Home Page

>
Egg and Cheese Recipes
> Crustless Cheesy Quiche
Recipe Background
Do you avoid making quiche because you don't want to deal with making, rolling, or crimping a crust? This crustless cheesy quiche is an easy alternative. You can easily make this a meatless meal by omitting the bacon. You can also add anything else that's to your liking such as broccoli, chopped spinach, or baby shrimp.
Crustless Cheesy Quiche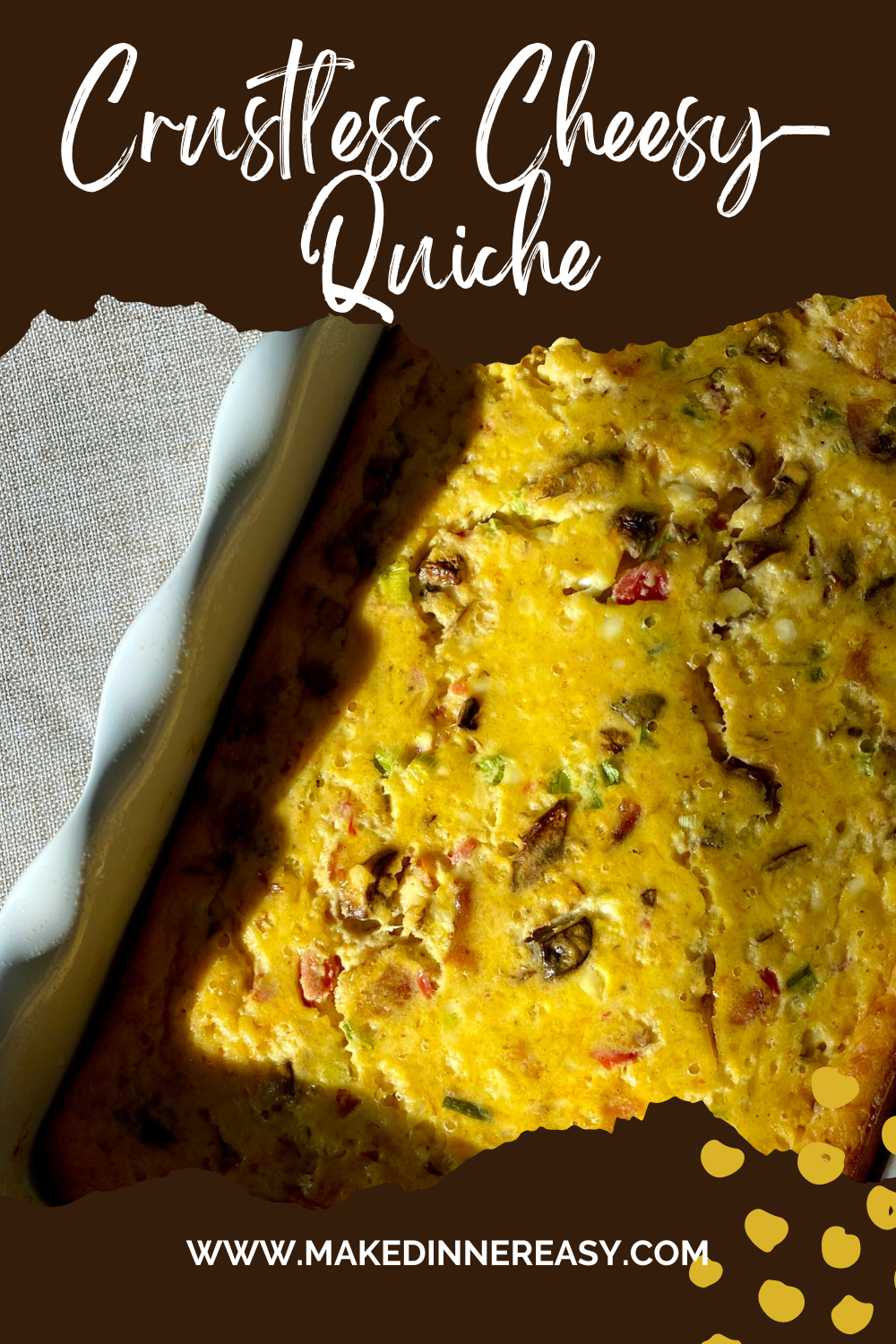 ½ stick, butter (1/4 cup)
¼ cup, flour
¾ cup, milk
1 cup cottage cheese
½ teaspoon baking powder
½ teaspoon salt
½ teaspoon Dijon mustard
5 eggs
4 ounces, softened cream cheese (make sure it's really softened can even soften it in the microwave)
6 ounces shredded swiss or cheddar cheese
3 Tablespoons Parmesan cheese
¼ cups green onions, chopped
3 slices cooked bacon, crumbled (use ready to serve precooked bacon or diced ham if pressed for time)
1 tomato sliced and set on a paper towel to drain

Melt the butter in a saucepan, stir in flour, stir and cook until bubbly, add milk slowly while stirring. Cook over medium low while stirring for 5 minutes or until thickened. Add the cream cheese and stir until combined. Remove from heat and let cool for about 15 minutes.
Meanwhile, preheat oven to 350°F.
Combine cottage cheese, baking powder salt and mustard in a large bowl. Add the beaten eggs and stir. Add the milk/flour sauce that is in the saucepan to the cottage cheese mixture in the bowl. Stir well, and then add the cheeses, green onion and bacon.
Pour this mixture into a buttered 10" pie plate and top with sliced tomatoes.
Bake at 350°F for 40 minutes. A knife inserted into the center of the quiche should come out clean. Let rest for 15 minutes and serve.
Cook's note: This recipe can be doubled and baked in a 10"x15"x2" pan.
(the directions for this recipe have been revised, from the version posted originally, to make assembly even easier)

Click on any of the images below to see what I've pinned to Pinterest recently!.  If you like to see the recipes and cooking tips that I discover and pin, I'd love to have you follow me on Pinterest!

Visit Crystal@makedinnereasy's profile on Pinterest.
Thanks for stopping by! 
If you enjoy cooking or are looking for new recipes to try,
these are ways to see more yummy ideas: 
I also share all kinds of cooking tips and recipes on
Facebook . Twitter . Pinterest . and Instagram .
I'd love to have you follow along!

Each page on this site has a comment box, so if you want to share how a recipe turned out or something you added to make it even better, feel free to comment below!