Home Page

>
Egg and Cheese Recipes
> Easy Quiche
Super Easy Quiche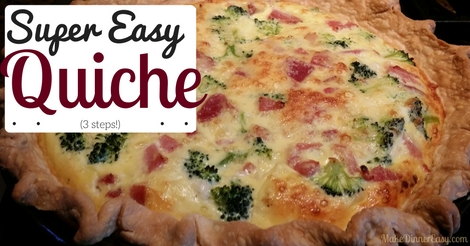 If you are looking for easy dinner recipes, this Super Easy Quiche recipe easily qualifies. Thanks to Saree P. for this recipe. As Saree says, you've got to love a good 3-step recipe! Although this quiche recipe calls for broccoli, check out the cook's notes below for other ideas to customize this recipe to your tastes or to the ingredients you have in the house. Pictured at the right is a quiche made with broccoli and another quiche made with ham.
Super Easy Quiche Recipe

1 1/2 cups shredded cheddar cheese
2 Tablespoons flour
1 cup milk
3 eggs slightly beaten
1/2 cup grated Parmesan cheese (freshly grated preferred over the powdered variety)
1 1/2 - 2 cups fresh broccoli florets (see cook's notes)
dash of salt and black pepper
1 (9 inch) deep dish frozen unbaked pastry shell

Preheat oven to 350'F. In a medium bowl, toss cheddar cheese with flour. Add milk, eggs, Parmesan, pepper and veggies. Pour into pastry shell. Bake at 350'F for 50-60 minutes, or until set.
Cook's notes You can use substitute chopped fresh spinach, diced ham, crumbled bacon, onions, or a combination of these ingredients in place of the broccoli. This recipe will accommodate about 1 1/2 - 2 cups of any desired filling if you use a deep dish pie crust. If you don't have a deep dish frozen pie crust, use about 3/4 cup of broccoli or desired filling ingredients. Saree likes to use Pillsbury Brand Pet Ritz Deep Dish Pie Crusts but other brands could be used as well.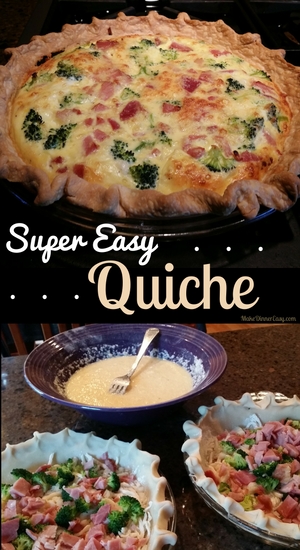 Click on any of the images below to see what I've pinned to Pinterest recently!.  If you like to see the recipes and cooking tips that I discover and pin, I'd love to have you follow me on Pinterest!

Visit Crystal@makedinnereasy's profile on Pinterest.
Thanks for stopping by! 
If you enjoy cooking or are looking for new recipes to try,
these are ways to see more yummy ideas: 
I also share all kinds of cooking tips and recipes on
Facebook . Twitter . Pinterest . and Instagram .
I'd love to have you follow along!

Each page on this site has a comment box, so if you want to share how a recipe turned out or something you added to make it even better, feel free to comment below!