Home Page

>
Soups and Stews
> Asian Turkey Soup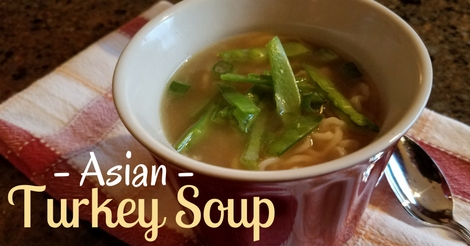 Recipe Background
I got the idea for this Asian Turkey Soup recipe after tasting a delicious soup in a Chinese restaurant that was served with raw pea pod strips. If you are looking for an interesting way to make turkey soup after Thanksgiving, I think you will enjoy this dish. If you want to take advantage of a leftover turkey carcass, I would suggest completing the first step, then add the turkey carcass to the stockpot along with the broth. Allow this to simmer for about 30 minutes and then remove and discard the carcass. Continue with the rest of the recipe by adding the turkey meat and other ingredients as indicated. You certainly can make this soup without a carcass by using leftover turkey meat or even several thick slices of deli turkey meat.
Asian Turkey Soup
(Prep Time:15 minutes Cooking Time: 20 minutes)

1 Tablespoon olive oil
½ onion, diced
2 garlic cloves, thinly sliced
2 (32 ounce) boxes chicken broth
2 cups diced turkey
1 Tablespoon soy sauce
1 (5 ounce) package Asian style curly noodles
3 green onions, finely chopped
1 cup fresh snow peas, julienned

In a stock pot, heat the olive oil and sauté the onion and garlic until tender. Add broth and turkey and stir well. Add soy sauce and simmer for 15 minutes on low. Meanwhile cook noodles according to package directions. 5 minutes prior to serving add chopped green onions to soup mixture. To serve, place a small portion of cooked noodles in a soup bowl, ladle soup over noodles and sprinkle fresh snow peas on top.

Serves: 6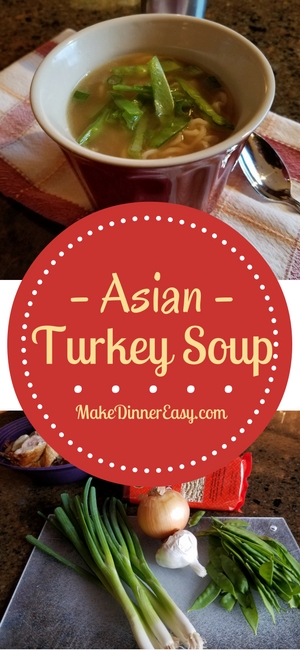 Click on any of the images below to see what I've pinned to Pinterest recently!.  If you like to see the recipes and cooking tips that I discover and pin, I'd love to have you follow me on Pinterest!

Visit Crystal@makedinnereasy's profile on Pinterest.
Thanks for stopping by! 
If you enjoy cooking or are looking for new recipes to try,
these are ways to see more yummy ideas: 
I also share all kinds of cooking tips and recipes on
Facebook . Twitter . Pinterest . and Instagram .
I'd love to have you follow along!

Each page on this site has a comment box, so if you want to share how a recipe turned out or something you added to make it even better, feel free to comment below!